So, you want to start a small-scale dairy. Before you begin scanning real estate ads, buying a set of Carhartts, and pricing out feed, take heed from the advice of acclaimed author and farmer Gianaclis Caldwell.
Caldwell grew up on a small family farm in Oregon, where she milked cows, ran a dairy cow 4-H club, and learned to raise organic produce and meat. In 2005, Caldwell returned to the property with her husband and their two daughters where they now operate Pholia Farm, an off-grid, raw milk cheese dairy. So, she knows of what she speaks (and writes).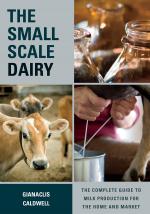 In her new book, The Small-Scale Dairy: The Complete Guide to Milk Production for the Home and Market, Caldwell asks wannabe farmers to sit down, take a deep breath, and (honestly) answer a few key questions before diving into the romantic life of a dairy farmer.
Does your idea of a vacation involve getting up several hours earlier than normal to finish the chores in time to attend a raw-milk educational conference, then arrive home late, do chores again, and still get up on time the next morning

Do you see yourself paying more for animal feed than your own dinner out

Do you find inserting your arm into a laboring doe's uterus to untangle triplet goat kids an interesting challenge

Does your idea of a balanced workout include doing squats while working in the milking parlor

Does producing wholesome food and feeding your community make you happy
If you answered "yes" to any of these questions, then you might be a dairy farmer.
In The Small-Scale Dairy, Caldwell (The Small-Scale Cheese Business, Mastering Artisan Cheesemaking) provides the know-how to safely produce nourishing, farm-fresh milk. She also provides readers a balanced perspective on the current regulatory environment in which raw-milk lovers find themselves.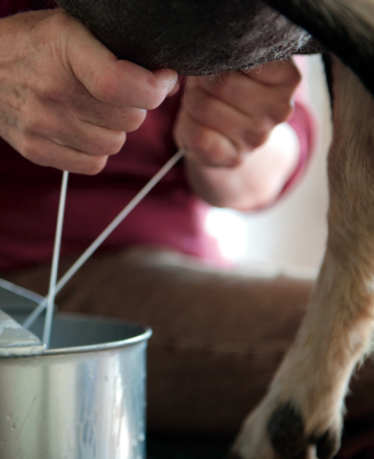 "For both producers and consumers, The Small-Scale Dairy is a must read and a valuable contribution to a growing movement," writes Sally Fallon Morell, president of the Weston A. Price Foundation.
In The Small-Scale Cheese Business Caldwell tackled the nuts and bolts of running a successful creamery, while in the beautifully designed and written Mastering Artisan Cheesemaking, she provided insight into the intricacies of cheesemaking science – as well as tried and true recipes for beginner to expert cheesemakers.
With the addition of her latest book, Caldwell has created a farm-to-plate trilogy for the aspiring dairy farmer and cheesemaker. Pick up any one of her books and learn whether you just might be a dairy farmer, have what it takes to run the business side of your cheese business, or if you're talents lie in crafting the perfect artisanal cheese wheel. Or, grab the complete set and start scanning the real estate ads and looking for a few pairs of Carhartts.
The Small-Scale Dairy: The Complete Guide to Milk Production for the Home and Market is available now and on sale for 35% off until April 11. Read an excerpt below.
Chapter 2: Is the Small Dairy Right for You? by Chelsea Green Publishing
---