Methane is a harmful greenhouse gas…and it's everywhere. Methane is generated by the fermentation of organic matter. That means it comes from compost piles, livestock manure, wastewater, landfills, even your garbage can. And as your weird cousin may have demostrated with a can of beans, one hour, and a well-placed lighter…methane is a combustible gas.
If captured properly, methane can be used to fuel an internal combustion generator that will pump out watts of electricity for your home while burning off this harmful greenhouse gas.
The following article explains the many ways that methane and other biogasses are being put to good use generating power.
The following article has been adapted for the web from The Citizen-Powered Energy Handbook: Community Solutions to a Global Crisis by Greg Pahl.
BIOGAS
There are many ways to capture and burn biogasses to create biopower. The Environmental Protection Agency (EPA) requires all large landfills to install collection systems to prevent landfill gas—mostly methane—from building up and causing an explosion, and to minimize its release into the atmosphere. The productive use of this landfill gas (LFG) to produce electricity is an increasingly popular strategy that makes a lot of sense, although it's not really renewable, since the gas in any given landfill will eventually run out. One can also wonder whether large-scale landfills will survive in an energy-constrained future where virtually all resources will be reused or recycled out of necessity. Nevertheless, LFG still represents a useful biopower fuel source at the present time. According to the U.S. Department of Energy, there are more than 350 landfills nationwide that tap into this source of energy. Transforming what would otherwise be a waste product that contributes to global warming into green energy is also a way for utilities to shift their energy portfolios away from nuclear and fossil fuel generation.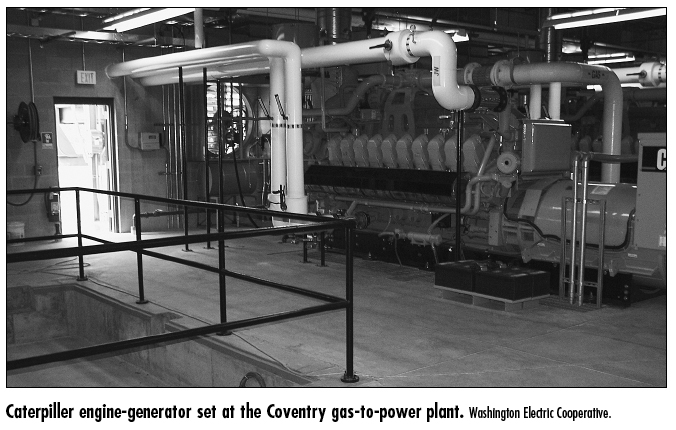 The Coventry Landfill
Vermont's Washington Electric Cooperative, located in East Montpelier, unquestionably had these issues in mind when it constructed a 4-megawatt power plant that burns methane collected at a landfill in Coventry, Vermont, not far from the Canadian border. The $8.4 million project, which also included the construction of 7.2 miles of new transmission line to connect with the statewide transmission system, began generating electricity in July 2005. The 7,000-square-foot powerhouse at the landfill presently contains three big, yellow Caterpiller engines that turn the generators to produce about one-third of the co-op's total power requirements. And once a planned landfill expansion takes place, the co-op will install a fourth engine by 2008, boosting total power production to 6 megawatts, or 50 percent of the co-op's projected load.49
The Coventry Project was the culmination of three years of planning and hard work by WEC's staff, board of directors, consultants, lending agencies, state regulators, and landfill operator Casella Waste Management, as well as seven months of construction by contractors and linemen in and around the landfill site. In June 2004, after the project had received state approval, the co-op's members blessed it with a special vote of 1,633 in favor to 86 against. The WEC project was the first significant new electricity generation project of any kind to open in Vermont since 1997, when Green Mountain Power launched its 6-megawatt wind farm in Searsburg. And the timing couldn't have been better. The long, hot summer of 2005—coupled with rising oil and natural gas prices—caused the wholesale electricity market to skyrocket. Prices for electricity on the spot market (daily purchase) averaged 11 to 17 cents per kilowatt-hour (kWh), and actually reached 45 cents/kWh for a few hours in August. "We started production just at the height of the summer," says WEC President Barry Bernstein, "when energy costs were going up with the heat. The plant came online in time to lessen our exposure to those prices." The Coventry power plant now provides the co-op with electricity at a cost of less than 5 cents per kWh during the initial twenty-year contract period.50
Foster Brothers Farm
Another example of biopower is the methane digester on the Foster Brothers Farm in Middlebury, Vermont, a fifth-generation dairy farm with about 1,900 owned and rented acres and 370 milking cows. In the 1970s, concerns about manure management and energy supply motivated Robert Foster and other members of his extended family to look into the possibility of installing a manure digester on the farm. "My motivation was to take what most people viewed as a negative and turn it into a positive opportunity," Foster says. "I read about and visited Mason Dixon Farms' digester in Pennsylvania, and over a period of years we received a number of proposals for a digester for our farm. One would have required seven acres of tanks. Needless to say, we didn't use that plan."51
The Fosters eventually ended up working with a construction firm that had received a Department of Energy grant for a digester pilot project on a forty-five-cow dairy farm in New Hampshire. "We refined a digester design, got our permits, and built a system in 1982 that fit our needs," Foster says. The digester is an eight-foot-deep, underground concrete tank with a flexible cover on top, which allows it to expand or contract in size as necessary. Anaerobic bacteria decompose the manure in the tank, and this results in the release of methane. The methane is then transferred by a pipe to another building, where it is scrubbed to remove hydrogen sulfide gas and then fed into an internal combustion engine. The engine is connected to a generator that produces the electricity used by the farm. The cow-powered system generates about 360,000 kWh of electricity per year, and the original idea was to sell it to the local utility. But the price the farm received for its electricity eventually declined to the point where it was no longer economic, and the Fosters decided to use their electricity to power the farm and three adjoining residences.
In 1992, the Fosters took their idea one important step further. In addition to producing enough electricity to power the farm, they decided to compost the solids remaining from the digestion process. This resulted in the production of soils, composts, and growing mixes, and the Fosters created a sister company, Vermont Natural Agricultural Products (VNAP) to market and sell its composted soil products throughout the Northeast. VNAP grossed $1.75 million in sales in 2005, while the dairy side of Foster Brothers grossed about $1.2 million in milk sales.
In 1999, after obtaining federal money from the Department of Energy, Foster Brothers Farm reconfigured its system to become a research facility to study the use of methane digesters for the Vermont Methane Project. The project, which ran from 1999 to 2004, was designed to explore more effective new uses of methane recovery technology on Vermont dairy farms. During this time, one successful experiment used the system to create steam to transfer heat to the digester, increasing its efficiency and demonstrating that a smaller tank size was possible.
"Some of this technology's advantages, like odor control and greenhouse gas reductions, are a little hard to put numbers on, but I think people should consider taking a look at it. In any case, we definitely achieved our original goals," Foster says.52
Cow Power
The Vermont Methane Project also resulted in the construction of a larger farm methane digester at Blue Spruce Farm in Bridport, Vermont, which has about 1,500 head of cattle. The farm, owned by the Audet family, received a $97,318 USDA Rural Development Renewable Energy grant to purchase and install an electric generator for its methane digester—a large, 14-foot-deep, concrete bunker that measures 72 by 100 feet. Blue Spruce, which now generates 1.75 million kWh a year, has become the flagship project for Central Vermont Public Service Corporation's popular Cow Power program. This voluntary program allows CVPS customers to sign up for farm-methane-generated electricity by paying an extra 4 cents per kilowatt- hour on their monthly electric bills. Customers can choose to buy 25 percent, 50 percent, or all of their electricity through the Cow Power rider. Customers using 500 kWh per month who choose to receive 25 percent of their power under the rider would only pay an additional $5 a month.53 This option has been popular with many CVPS customers, and over three thousand five hundred have signed up, making Cow Power one of the most successful programs of its type in the nation.
[Editor's Note: My apartment is 100% powered by Cow Power—and it smells just fine, tyvm!]
httpv://www.youtube.com/watch?v=A8GDK7dtsSA
Around a dozen other Vermont farms have been seriously considering the idea, and in April 2006, four more decided to join the program. Farms in Sheldon, Fairlee, West Pawlet, and St. Albans are receiving grants totaling $666,000 from CVPS's Renewable Development Fund, to defray the cost of building new farm-based electric-generating systems to support the state's largest renewable energy program. "These grants will help develop 8,400 megawatt-hours of clean renewable energy right here in Vermont," CVPS President Bob Young said. "That's enough energy to supply 1,395 average homes using 500 kWh per month." The farms all hope to be online by the end of the year. 54
"We believe Cow Power has something most renewable programs don't have: a close link between the customer, the energy, and the local benefits," Young says. "Lots of companies are offering renewable programs, but often the energy is generated several states away, and there's no real relationship between the energy and the local environment. With Cow Power, many of our customers know the local farm-producer, and there is a sense of partnering to better the environment. That's what makes Cow Power special, and it's one of the things we believe will help it grow quickly."55
---
Will Lindner, "A hedge against a wobbly market," Rural Electric Magazine 64, no. 3
(December 2005), 28, 29.
"Co-op fires up the generators!" Co-op Currents 66, no. 5 (August/September 2005), 1, 8,
http://www.washingtonco-op.com/news/Aug2005.pdf.
Robert Foster, telephone interview by the author, March 1, 2006.
Ibid.
Central Vermont Public Service, "Cow Power," http://www.cvps.com/cowpower/index.shtml
(accessed on February 31, 2006).
Central Vermont Public Service, "The ultimate in recycling: Four more farms plan CVPS
Cow Power generators, receive grants," April 3, 2006, http://www.cvps.com/cowpower/
documents/FourfarmstoproduceCVPSCowPower.pdf.
Central Vermont Public Service, "CVPS aims high with cow power," May 3, 2005,
http://www.cvps.com/documents/annualmeetingrelease_000.pdf.
---