Today, many farmers are finding magic in what was once considered a primitive technology — draft power — and helping fuel a rapid and passionate resurgence.
Once upon a time, coaxing food out of the earth required our whole bodies, working in tandem with the immense strength of horses and oxen, in teams powered by the strength of the relationship between us and our four-legged companions.
Horses (as well as mules and oxen) were once a farmer's only method of traction power. If you needed to pull something heavy across any distance, you hitched up your team—to plow, till your fields, weed them, cut your hay, or take your produce to market. Combines the size of farmhouses being guided by GPS and not a farmer's voice weren't to be seen, as they often are in today's American Midwest.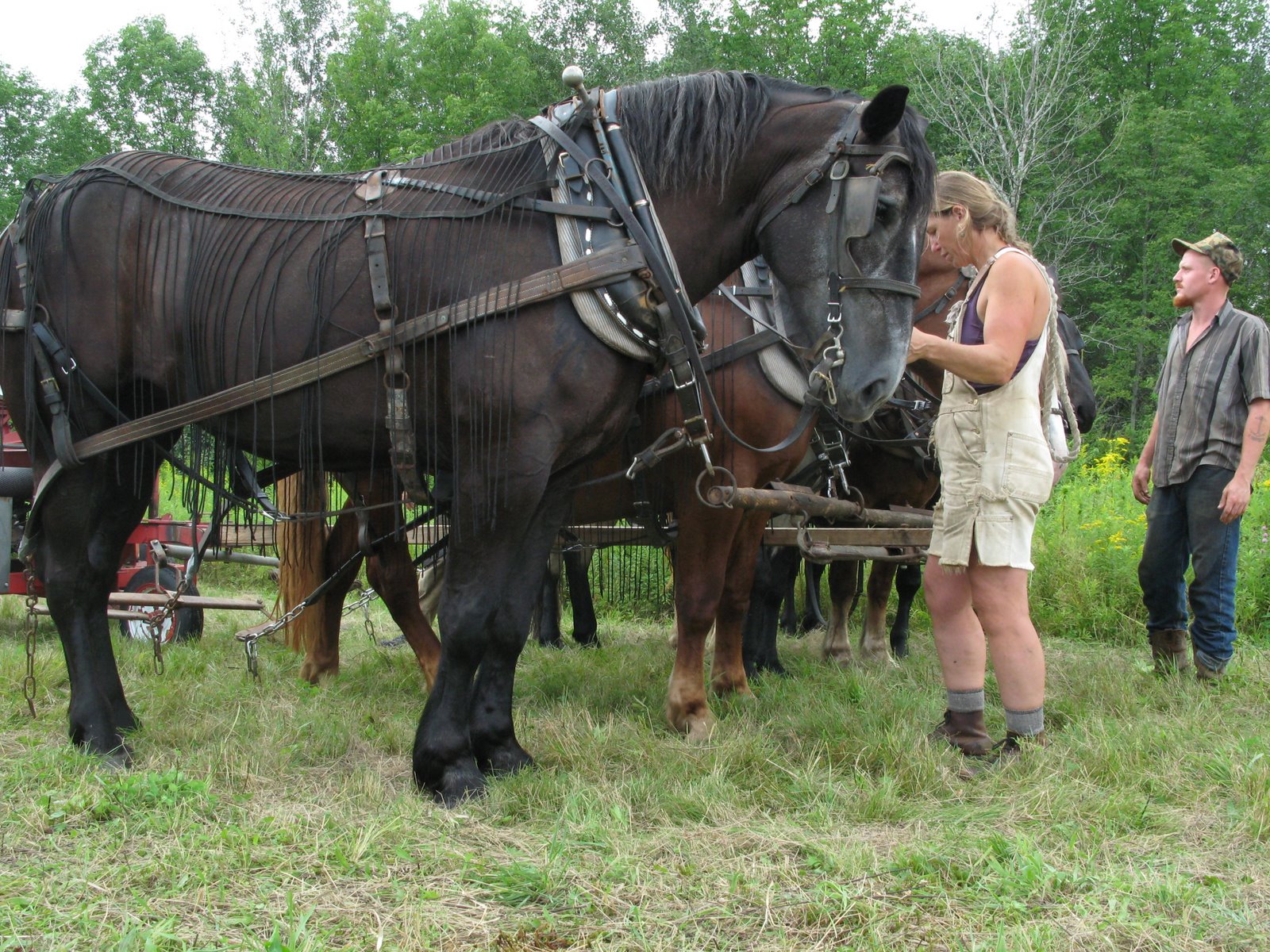 Today, advanced technologies — and the natural resources and petroleum products needed to fuel them — are omnipresent in agriculture, if not our daily lives. Most of spend our days staring at a glowing screen, pushing text around or copying numbers into spreadsheets — disconnected from that long ago, earthy past. But you'd be mistaken if you thought we could sever the ties completely. We remain dependent upon myriads of diverse beings, from bacteria to beasts, even as we wage wars against the former with soaps and sprays, and sequester the latter to feedlots and distant warehouses.
Thankfully, we are in the midst of a rapidly growing local food movement plowing ahead with all the passion of the back-to-the-land movement, plus all the pragmatism you'd expect from capitalism. The current resurgence of small-scale, holistic, sustainable agriculture has been inspired by many things: A growing awareness of our precarious environmental situation thanks to climate change, a deepening dissatisfaction with a life divorced from nature, and a deep desire to restore the interconnections that make us human.
That desire has led new farmers to try methods of working the earth that go beyond productivity in the narrow sense of how much profit can be gained from an acre of soil. Instead we see farmers using techniques gleaned from permaculture, from biodynamics, from all sorts of traditional skills that respect the ecological cycles of life, and incorporating animals into the farm-system at every step. Curious, passionate farmers today ask not only how many tomatoes they need to pay their mortgages. They ask how much happiness can be packed into a lifestyle? How much magic?
In this quest for reconnection, and a deeper understanding of what it means to be human, farmers are increasingly putting their tractors out to pasture.
In the introduction to his forthcoming book, The New Horse-Powered Farm, longtime horse farmer Stephen Leslie says, "this book is not about trying to go back to some idyllic past. It is designed to be a manual to help us move a few steps forward to a more sustainable future."
The book will augment the efforts of organizations like the Draft Animal Power Network and publications like the Small Farmers Journal that have been instrumental in keeping the tradition of horse-powered farming alive. They bring teamsters with decades of experience together with new farmers just getting started with draft animals (and yes, they take plenty of beautiful photos of strong and intelligent animals at work)—from Donn Hewes's towering mules (pictured above and to the right), to Jean Cross's adorable miniature horses, and Stephen Leslie's Fjords with their punk-rock manes (above left), and even the Green Mountain College oxen.
Instead of noxious diesel exhaust, draft animals plowing fields emit nitrogenous fertilizer to feed the soil. Instead of rumbling engine noise, they just snort, whinny, or moo now and then. And instead of depreciating in value over time like your John Deere, animals trained to harness only become more valuable the longer you work with them. Can you imagine a tractor being glad to see you in the morning? Or giving birth to baby tractors?
You can't bond with a machine. And on every level, from the probiotics in your diet, to the resilience of your community, relationships are the locus of real magic.
Photo Credits, from top to bottom: William Stack, Jennifer McCharen, Draft Animal Power Network
---