Recently, the environmental blog Treehugger featured a Slow Money success story from North Carolina.
Slow Money is a movement founded on the idea that our economy can no longer afford to ignore the health of the soil, the happiness of people, and the importance of a robust food system that's feeds communities instead of producing commodities.
Chelsea Green was proud to publish Inquiries Into the Nature of Slow Money, a rallying cry for the movement, back in 2008, and we're always thrilled to spread the word about communities who are seeing the ethic of Slow produce big rewards. Author Woody Tasch has continued to grow Slow Money into a vibrant organization with fun, inspiring annual events, and we have continued to publish the work of people dedicated to the mission of bringing money back down to Earth.
Local Dollars, Local Sense, by Michael Shuman, is the most recent addition to the Slow Money bookshelf. Local Dollars was the first in our Community Resilience Guides series, a partnership with the Post Carbon Institute (learn more about the project at Resilience.org). You don't have to choose between improving the financial health of your community and increasing the wealth in your portfolio. Shuman's book shows you how to harness the power of local investments such as crowdfunding for new businesses, community buying clubs, local stock exchanges, and more.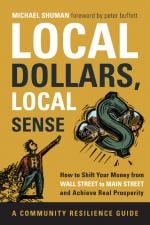 The second guide in the series, Power from the People, showcases communities around the world that have planned, financed, and built renewable energy infrastructure — all by themselves.
Now, let's pop on down to North Carolina and see what's happening!
From Treehugger: How Slow Money Financing Helps Food Businesses Grow by Sami Grover
I once proposed the idea of Slow Business as a means to reclaim our lives. That meme never really took off, but Slow Money, on the other hand, has. A movement that facilitates direct loans between private individuals and sustainable food operations, Slow Money is becoming a powerful driver for grassroots business activism.
I recently had the opportunity to talk to Carol Peppe Hewitt, a founder of the vibrant Slow Money movement here in North Carolina, as well as some of the business owners who have borrowed through Slow Money NC.
"When you run a small business for years, it's like you see a snapshot of what is going on with the wider economy."
That's how Carol Peppe Hewitt describes her entry point into Slow Money.
She had been running a successful artisan pottery business with her husband Mark for decades, and observed how hard it was for small businesses to access affordable credit. This was particularly true within the local food movement – where farmers, small processors and producers were unable to get loans to start up or expand their business.
---