Unless you've taken special preventative precautions, it's likely that on cold days much of your house's heat pours out through your (closed) windows. Most houses—especially old houses—have drafty, uninsulated windows that do little to prevent heat from dumping out into the cold night. Even if your windows aren't drafty, the expensive heat your furnace has been generating could be escaping. The only way to know for sure is to conduct a home energy audit. Included in a home energy audit is a thermal image of your house on a cold day. This image will show you the hot spots on the exterior of your house—usually around the doors and windows—where (and how much) heat is escaping.
Once you've conducted your home energy audit, or decided that your windows are probably leaking heat anyway, you can get to work sealing up the windows to save money, fuel, and energy this winter. Stephen and Rebekah Hren, authors of The Carbon-Free Home, have offered the low-cost solution to window heat loss in the excerpt below.
Related Links:
New Book Explores a Net Zero Energy Future
The Green Home Renovation Revolution
Insulate with Curtains and Shutters
A variety of systems have been devised over the years to stop heat transfer through windows. The most obvious is the curtain. While curtains do address heat transfer via radiation, when improperly installed they can increase the convection over the window and potentially lead to a net heat loss. This happens primarily from top to bottom when a large gap allows warm air to be pulled downward from the ceiling between the curtain and the glass. This cools the air, causing it to drop down below the curtain level and escape back out into the room. The cool air entering the room is replaced by additional warm air near the ceiling, and a thermosiphon effect can become established, quickly sucking the heat out of the room.
This can also occur to a lesser degree when curtains have large gaps between the sides and the wall. To make the application of curtains worthwhile from an energy conservation standpoint, it's necessary to go to some trouble to reduce as much as possible all gaps around the edges of the curtains. Historically, the thermosiphon effect has been reduced by the application of a valance (also called a pelmet) at the top of the window. Often these are applied with aesthetics as the main concern (covering the curtain hardware) instead of energy conservation. To be effective, the valance needs to hug tight to the wall above the window to prevent thermosiphoning. Cloth valances rarely achieve this end. Constructed wood valances, sometimes found in older homes, are more effective.
For windows without curtains or with poorly functioning curtains, there are two options: insulated curtains or shutters. Typically, insulated curtains are held tight to the wall by embedded magnets (or Velcro) in the curtain and window trim. Insulated shutters are typically hinged on one side, although they can be hinged on the top and opened via a pulley and held against the ceiling. They typically consist of a simple 2 × 2 frame with metal on both sides and insulation sandwiched in between, typically high-R-value foamboard. (See image.)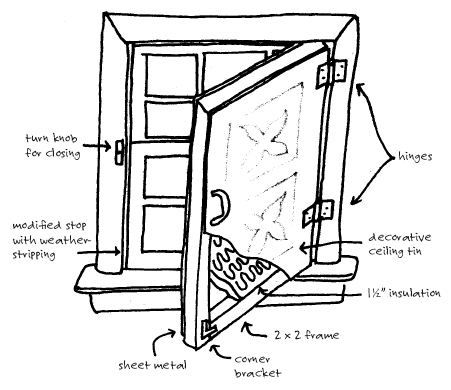 Insulated curtains are either homemade or purchased affairs. Beware—many big-box retailers sell what they call insulated curtains, but these are thin and don't seal around the edges. Solar Components (www.solar-components.com) sells insulated material for making your own sealing insulated curtains. Cozy Curtains (www.cozycurtains.com) will custom-make sealing insulated curtains for around $10–12/ square foot. Generally, windows with sealing insulated curtains achieve an R-value of around 7 or 8. The curtains also have excellent sound-deadening and light-blocking qualities.
Project: Sealing Drafts
Renter friendly.
Project Time: One weekend.
Cost: $5–50.
Energy Saved: High. Drafts can suck much of the heat out a home very quickly.
Ease of Use: N/A.
Maintenance Level: None.
Skill Levels: Carpentry: Basic.
Materials: Caulk, silicone.
Tools: Caulking gun, pry bar, screwdriver, incense or smoke stick.
Blow-in insulation. For older homes, the best way to seal up a drafty house is often by blowing insulation, either cellulose or fiberglass, into the walls and attic. Loose-fill insulation can reduce airflow to the point where air infiltration is essentially eliminated. If your home is poorly insulated, blowing in insulation in the attic and walls should be your top priority. It's probably best to hire someone for at least the wall insulation. The reason to hire out is because blowing in sufficient insulation to get up to R-13 or so requires pressure created by a high-powered compressor that is not easy to rent. Walls and attic can be done in an afternoon by a professional. However, the attic doesn't require high pressure and can be a DIY job if you're so inclined. Many rental places or big-box stores have the equipment needed to blow in attic insulation.
Checking for air leaks. If your walls are already insulated, you'll want to check all protrusions into the interior wall space for potential air leaks. This is easy to do with a stick of incense, when the interior temperature is substantially different than the exterior temperature. Hold a smoking stick close to things such as outlets, tops and bottoms of baseboards, chair rails, picture rails, window trim, plumbing intrusions, and vents, and watch the smoke. If it's not floating straight up, you found one.
Outlets and switch seals are made of rubber and match the profile of the outlet (receptacle or switch). These can be purchased at most hardware stores. Remove the outlet cover with a screwdriver and stick the seal in between the cover and the wall. Be cautious of live wires; to play it safe turn off the breaker for the circuits you will be working on whenever removing outlet covers.
Drafts from gaps in trim or plumbing and HVAC intrusions can be sealed with either pure silicone (which is preferred as it stays flexible, but it is not paintable) or painter's caulk with some silicone added. Expandable foam is an option for large cracks (more than a ¼ inch), although it often contains potential toxins like benzene and often uses HCFCs for blowing agents, known to be potent greenhouse gases.
Stopping vertical airflow. If your home is old and your interior walls are extremely drafty, you have two options. The first is to seal either the basement or the attic. This will close either the entrance (basement) or the exit (attic) for the cold air. Again, blowing in insulation in the attic does a great job of essentially eliminating potential basement-to-attic airflow through interior walls. The cheapest (but most difficult) choice is to go into the basement or crawl space and clog any holes made in the floor and walls for systems such as electrical and plumbing. There are often a surprising number of these. This can be done with expanded foam or by stuffing bits of fiberglass insulation into the holes. While fiberglass insulation does let through some air, it reduces airflow by over 90 percent.
If your house is on piers and not enclosed, you'll need to insulate your floor. This is an unpleasant and difficult task but will go a long way in sealing up your home. Flexible rods are sold to hold floor insulation in place, but we've seen these fail on a number of occasions. The best method for holding floor insulation in place is to start with a few of these flexible rods and then staple chicken wire to keep it in place.
Recessed lights and electrical boxes in the ceiling are a common escape route for air. Again, blowing some insulation in the attic will do wonders. Fiberglass batts in the attic also benefit from this treatment, as the gaps between the edges and the joists can let out a fair amount of heat.
Check all ductwork. If you have a conventional furnace or heat pump with forced-air heating, you'll need to check your ductwork annually. This is because some piece or other has quite likely become detached over the course of time and is lying on the crawl space floor, keeping the crickets warm. To detect a detached duct, check each heating vent in your house, while the heating system is running, by placing your hand over the vent to feel for airflow. What you can't check from above are slightly detached or leaky connections, which occur with great regularity. Grab the incense stick and check all the lines for leaks, using real duct tape (black, not gray, and quite expensive) to seal any problem areas. Also check for crimped ductwork or holes from squirrels or rodents. Repair any problem areas.
In a really well-sealed home, there's the potential to have an inadequate amount of fresh air coming in from the outside. If you've done a great job sealing your home, and especially if you heat with wood (which uses up a lot of oxygen), you'll want to install an air exchanger. This brings in fresh air and exhausts interior air through a highly conductive metal passageway that exchanges much of the heat of the outgoing air with the incoming air.
photo by Milan Garbiar, Wikimedia Commons
---