Refrigerators are one of the single largest users of energy in the average home. They seem to do a decent job of keeping things cold, but they're typically not very well insulated. This may have become abundantly clear to any of you who lost power during Hurricane Sandy recently. Food stored in a fridge that has lost power goes bad very quickly. Luckily, adding insulation to your existing fridge is a simple project you can tackle this winter with the tips below.
Stephen and Rebekah Hren, authors of The Carbon-Free Home, are serious about saving energy. And if that means wrapping shag carpeting around their refrigerator to save energy, then by gosh, bring on 1973!
This is one of our favorite projects from The Carbon-Free Home. It wins on sheer style!
Project: Insulation Of Existing Fridge
Renter friendly.
Project Time: Weekend.
Cost: Inexpensive ($50–100, depending on type of insulation used and size of frame to hold it).
Energy Saved: High. Average refrigeration uses 8 percent of the household energy budget. Insulating your refrigerator can reduce energy use by up to 50 percent.
Ease of Use: Easy. Does not affect day-to-day use.
Maintenance Level: Low. Lengthens life of fridge by reducing the compressor load.
Skill Levels: Carpentry: Moderate.
Materials: 2 × 4s, insulation, paneling, connector plates, screws, and nails.
Tools: Saw, drill, hammer.
Most household refrigerators needlessly use excess energy simply because they are poorly insulated or they do not close properly. Insulation can be added to the sides, top, and doors to greatly improve your existing refrigerator's performance. If you are considering putting a wood cookstove in your kitchen, then extra insulation is a must. Ideally, your fridge would be separated from any heat source by being enclosed in its own closet. Before covering the sides with insu­lation, however, check that the coils usually located at the back of the fridge aren't actually on the side by feeling if one of the sides is especially warm.
Because refrigerators work by radiating heat off the coils attached to the back (often covered with sheet metal in newer models), it is important to maximize airflow on this side, so insulation here is not a good idea. On every other side, the poorly insulated walls of the fridge allow precious cold air to leak out.
The easiest if not the most attractive way to insulate an existing fridge is to glue or tape insulation board to the sides and top. Cut the side panels so that they extend beyond the top of the fridge to the height of the insulation you put on top. Carpet or corkboard or other panels can be used to hide the insulation and add a little more protection. Alternatively, corkboard or carpet can be applied on their own, although the insulating effect will be substantially reduced. Use only a few dabs of construction adhesive to hold the insulation and carpeting or panels in place, or use plenty of two-sided carpet tape, and make sure the surface is clean and dry.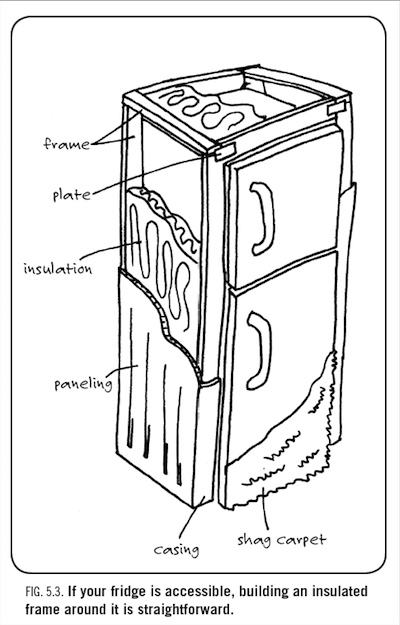 For the fridge and freezer doors, it's probably best to skip the insulation, as the constant opening and closing could result in the bulky panels getting knocked off. Apply corkboard or carpeting directly to the doors, working around the handles. Clean the front of both doors with a nontoxic household cleaner such as vinegar or baking soda. Then simply cut out the right size of carpet or board and apply two-sided carpeting tape or a few daubs of construction adhesive around the perimeter and in a few strips in between. Get your edge lined up properly (rolling up the carpet will help), and then slowly apply the material. Shag carpet looks best and will impress your friends, who will secretly pet your fridge as they reach in for a beer.
For a top-notch insulating job that will look like fabulous cabinetry, build a 2 × 4 wall on each side, to a height of 3½ inches (one stud width) above the top of the fridge. Run a 2 × 4 along the front and back in between the two walls and connect with a plate. Fill in the two sides and top with the insulating material of your choice (see chapter 7). The sides of the box can be paneled and the front trimmed out for a sharp-looking fridge upgrade. Again, for the doors apply corkboard or carpeting directly.
[Editor's Note: Your friends are only entitled to beer if they help you with this project. That means you, Dennis….]
---