It's been a remarkable week for supporters of marijuana legalization. Topping the list of reasons is Pres. Barack Obama's statement in The New Yorker that he doesn't think marijuana is more dangerous than alcohol.
No fooling. As in marijuana is safer than alcohol.
I think we've heard that phrase somewhere … hmm … where could it be? Oh right! In 2008, Chelsea Green published the book Marijuana is Safer: So Why are We Driving People to Drink? The core message of the book helped win the public relations battle against prohibitionists, particularly in Colorado.
Last fall, we released a revised and expanded edition of the book to take stock of the victories in Colorado and Washington state, and to demonstrate to other states considering legalization efforts that it can be done.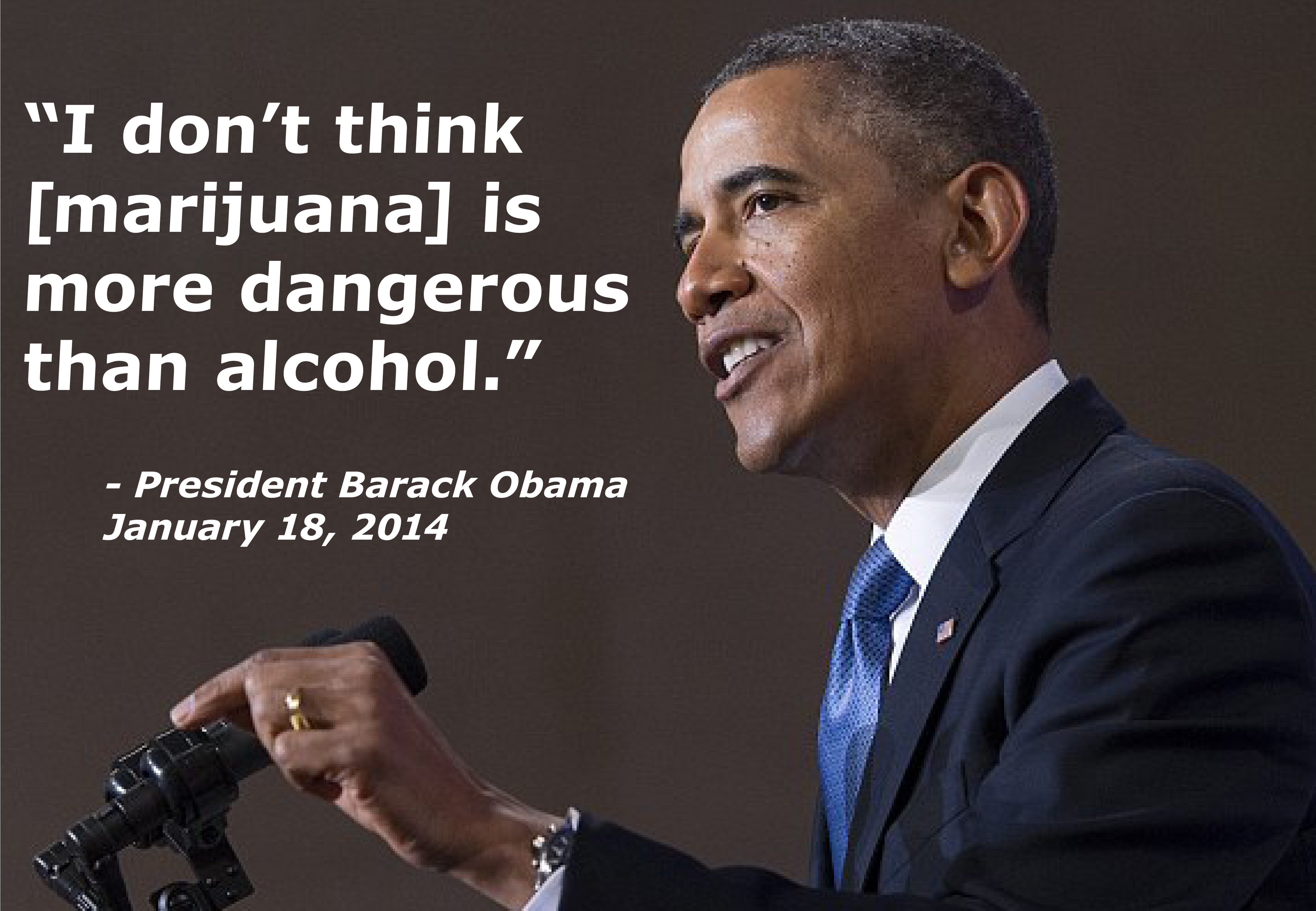 Here's a portion of what Pres. Obama told David Remnick of The New Yorker about marijuana legalization:
"As has been well documented, I smoked pot as a kid, and I view it as a bad habit and a vice, not very different from the cigarettes that I smoked as a young person up through a big chunk of my adult life. I don't think it is more dangerous than alcohol."

Is it less dangerous? I asked.

(…)

Less dangerous, he said, "in terms of its impact on the individual consumer. It's not something I encourage, and I've told my daughters I think it's a bad idea, a waste of time, not very healthy." What clearly does trouble him is the radically disproportionate arrests and incarcerations for marijuana among minorities. "Middle-class kids don't get locked up for smoking pot, and poor kids do," he said. "And African-American kids and Latino kids are more likely to be poor and less likely to have the resources and the support to avoid unduly harsh penalties." But, he said, "we should not be locking up kids or individual users for long stretches of jail time when some of the folks who are writing those laws have probably done the same thing." Accordingly, he said of the legalization of marijuana in Colorado and Washington that "it's important for it to go forward because it's important for society not to have a situation in which a large portion of people have at one time or another broken the law and only a select few get punished."
We'll let Jon Walker detail the importance of Obama's comments, as noted on his blog Just Say Now:
This shift in opinion is a huge victory for organizations like Safer Alternative For Enjoyable Recreation (SAFER) founded by Mason Tvert back in 2005 and the resulting book Marijuana is Safer: So Why Are We Driving People to Drink? In retrospect it maybe the most important book for helping to spread support for legalization at the beginning of the 21st century.

Instead of focusing primarily on the economic benefits of legalization or the libertarian case for personal autonomy SAFER promoted the science proving marijuana is simply much less dangerous than alcohol. Once people realize marijuana is safer it logically leads to the question: why is marijuana the one that is illegal?
Hear, hear!
Let's hope the president and his administration follow through at the federal level to decriminalize pot possession (as well allowing folks to grow industrial hemp, but that's another story).
Congrats to Steve Fox, Paul Armentano, and Mason Tvert, the authors of Marijuana is Safer, as well as the countless volunteers and activists out there working to decriminalize marijuana. This is no small feat, however, when you still have "Reefer Madness" devotees like Nancy Grace out there. Tvert held is own recently as Grace doubled-down on some rather outdated and overzealous misinformation about people who smoke marijuana.
Here's the original interview as posted and analyzed by our friends at Raw Story.
And, in case you missed it, here's a parody of that Nancy Grace interview from the most recent episode of Saturday Night Live.
Original Photo by AFP/Getty Images
---