Our latest paperback releases will help you form a deep connection with the land around you and cultivate its flavors so you can eat in season. Rediscover old favorites with the softcover editions of Wild Flavors, Cooking Close to Home, and Sowing Seeds in the Desert. Your bookshelf will thank you.
Wild Flavors: One Chef's Transformative Year Cooking from Eva's Farm by Didi Emmons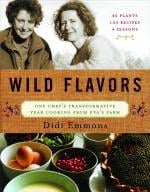 "Wild Flavors is a down-to-earth book rich in ideas and inspiration for people seeking to eat from their gardens and local areas. It's filled with mouth-watering recipes and valuable cultivation, shopping, and storage tips." – Sandor Ellix Katz, author of The Art of Fermentation
Alongside unique seasonal offerings, author and chef Didi Emmons provides profiles and tips on forty-six uncommon plants and shares celebrated farmer Eva Sommaripa's wisdom about staying connected and maintaining a sane and healthy lifestyle in an increasingly hectic world.
Curiosity sparked Emmons' initial venture down the Massachusetts coast to meet Sommaripa, whose 200-plus uncommon herbs, greens, and edible "weeds" supply many top Northeastern chefs. Wild Flavors follows Didi through a year in Eva's garden and offers both the warmth of their shared tales as well as the exquisite foods Didi came to develop using only the freshest of ingredients and wild edibles.
Cooking Close to Home: A Year of Seasonal Recipes by Diane Imrie and Richard Jarmusz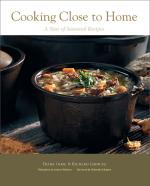 "This is a cookbook for the future—in the world we're building, where local food means both security and pleasure, this will be a companion for many a pioneer!" – Bill McKibben, author of Deep Economy
Eating locally is becoming a priority to people everywhere, but preparing local food throughout the four seasons can be a culinary challenge. Common questions like, "how can I eat locally in January?" or "how do I prepare what my CSA provides?" can confront even the most committed locavore. Cooking Close to Home is a seasonal guide that will inspire you to create delicious and nutritious meals with ingredients produced in your own community. Award-winning chef Richard Jarmusz and registered dietitian Diane Imrie make the ideal partners to stimulate your creativity in the kitchen, teaching you how to prepare fabulous local foods without ever sacrificing flavor for nutrition.
Sowing Seeds in the Desert: Natural Farming, Global Restoration, and Ultimate Food Security by Masanobu Fukuoka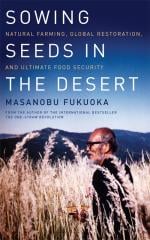 "Sowing Seeds in the Desert will persuade readers that the imperiled living world is our greatest teacher, and inspire them to care for it as vigorously as Fukuoka has." – Toby Hemenway, author of Gaia's Garden
Sowing Seeds in the Desert is Masanobu Fukuoka's last major work—and perhaps his most important. After the publication of his best-known work, One-Straw Revolution, Fukuoka spent years working with people and organizations around the world to prove that food can be grown and forests regenerated, with very little irrigation, even in the most desolate of places. Sowing Seeds in the Desert follows Fukuoka's efforts to rehabilitate the deserts of the world using natural farming, to feed a growing human population, rehabilitate damaged landscapes, reverse the spread of deserts, and encourage a deep understanding of the relations.
Wild Flavors, Cooking Close to Home, and Sowing Seeds in the Desert are available now and on sale for 35% off until October 14.
---