Vermont's lone nuclear reactor — Entergy-owned Vermont Yankee — has been named one of the five worst reactors in the United States, according to the new book Nuclear Roulette: The Truth about the Most Dangerous Energy Source on Earth, published by Chelsea Green Publishing.
For much of the past Vermont Yankee has been the focus of ongoing state and federal regulatory investigations, legislative battles, and ongoing courtroom drama. It started running in 1972, and was recently given a 20-year operating extension by the U.S. Nuclear Regulatory Commission
This coming weekend, and into next week, activists will renew their attention to the aging reactor in hopes they can finish the work of the Vermont Senate a few years ago — close down Vermont Yankee permanently.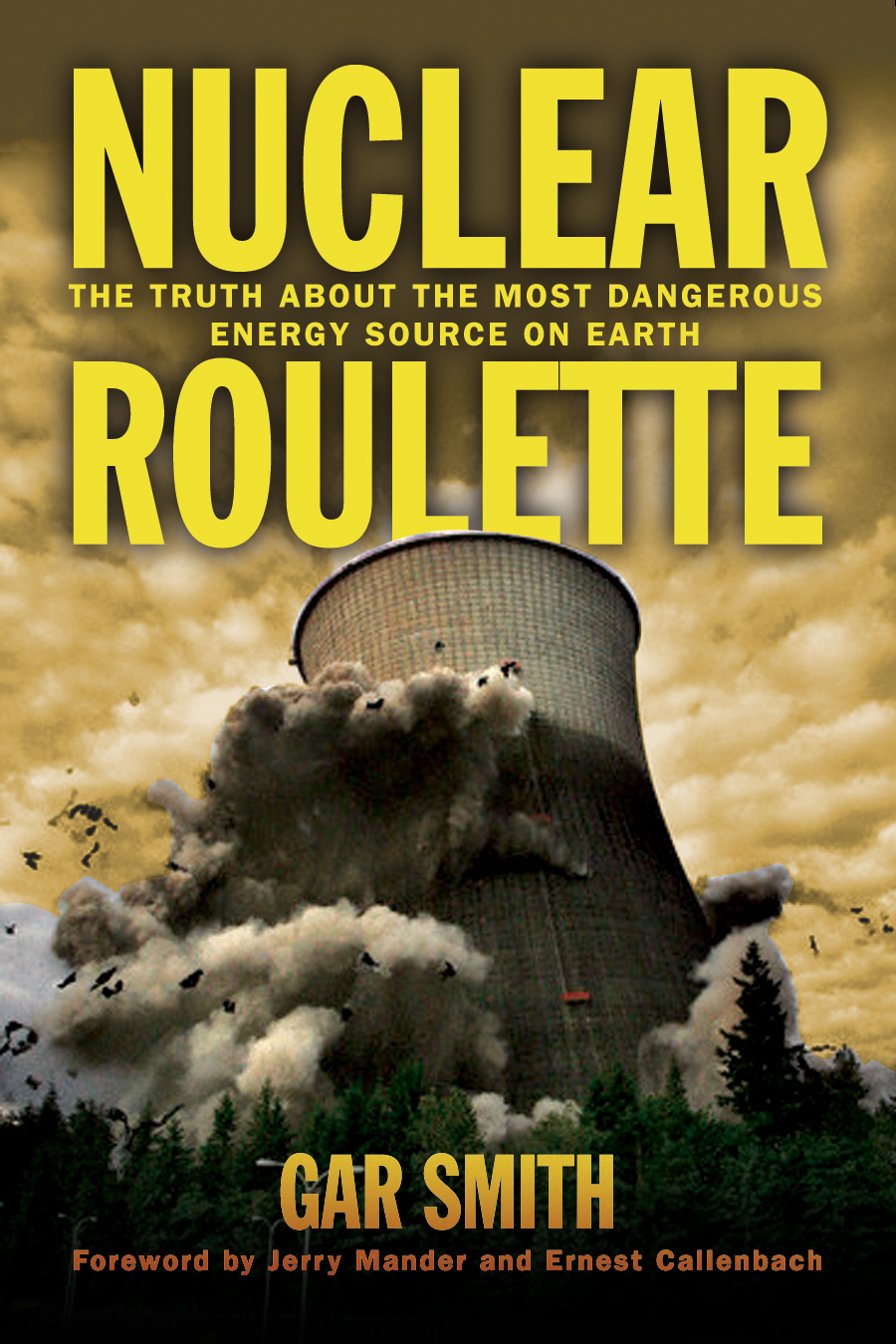 In this new work — which we're offering on sale this week — investigative journalist Gar Smith lists five nuclear facilities as the "worst reactors" in the United States. They were chosen because they are representative of the poor regulatory oversight that has endangered the public, and poisoned the environment. Many other nuclear power sites around the country have equally disturbing records of poor performance, emergency shutdowns, and close calls, which Smith details in ample supply in Nuclear Roulette.
"The consequences of poor regulatory oversight can be seen in the operating histories of the country's nuclear reactors," writes Smith in  Nuclear Roulette.
The other four reactors are: Entergy-owned Indian Point in New York; Davis-Besse in Ohio, and Diablo Canyon and San Onofre in California.
Here is the section devoted to Vermont Yankee, which also exemplifies what happens when the industry and its lapdog regulators team up against the wishes of a state's citizens and elected officials:
Vermont Yankee: The Green Mountain State vs. the NRC
On March 10, 2011, the NRC unanimously approved a 20-year license extension for the troubled Vermont Yankee nuclear power plant. Within hours of the decision, three similar General Electric Mark 1 reactors were knocked off-line by an earthquake in Japan—and all three overheated and exploded. Despite the devastation in Fukushima Prefecture, the NRC stood by its decision to allow the 40-year-old Vermont Yankee plant to continue operating through 2031. Given Vermont Yankee's history of breakdowns and cover-ups—and the fact that a reactor accident here could put more than a million Americans at risk—the watchdog group Beyond Nuclear excoriated the NRC's decision as both "audacious" and "reckless."

Vermonters received another jolt when it was revealed that the NRC had voted to extend Vermont Yankee's license even though its inspectors had discovered that critical electric cables powering the plant's safety systems had been "submerged under water for extended periods of time."

It was not the only maintenance failure of Entergy Corp., which had acquired the plant in 2002. The company has a reputation for "buying reactors cheap and running them into the ground." In 2004, a poorly maintained electrical system set off a large fire in the plant's turbine building that forced an emergency shutdown. In 2007, Vermont Yankee experienced a series of maintenance problems that included the dramatic collapse of a cooling tower. A waterfall of high-pressure water burst from a ruptured cooling pipe and tore a gaping hole in the plant's wall. Entergy was able to hide the damage—but only until a concerned employee leaked a photo of the wreckage to the press. The huge gap in the side of the building was reminiscent of the hole in the side of the Pentagon following the 9/11 attacks.

Tritium + Entergy = Perjury

During state hearings in 2009, Entergy executives were asked if radioactive tritium detected in the soil and groundwater near the reactor could have leaked from the plant. Company officials repeatedly swore under oath that this was impossible since there were no underground pipes at the plant. It was not until January 2010, after a leak of radioactive tritium was traced to a series of subsurface pipes, that Entergy changed its story. While the plant didn't have "underground pipes," Entergy now explained, it did have "buried pipes."

Attorney general William Sorrell began a 17-month investigation during which Entergy's former executive vice president Curtis Hebert admitted that the company's statements about the pipes "could have been more accurate." The state ordered Entergy to remove more than 300,000 gallons of radioactive water fron the soil and ground water at the reactor site, and Vermont governor Peter Shumlin demanded the plant's closure.

There's another waste problem at the plant: a large and potentially lethal stockpile of used fuel rods. While Fukushima's six reactors had between 360 and 500 tons of slowly dying fuel rods on-site, the nuclear graveyard at Vermont Yankee is filled with 690 tons of dangerously radioactive waste. And the storage pools for this spent fuel lack both backup cooling systems and backup generators.

Beyond Nuclear's "Freeze Our Fukushimas" campaign, which aims to close all 23 Mark 1 reactors in the United States, hoped to score its first victory when Vermont Yankee's 40-year operating license expired on March 21, 2012. The odds were improved by the fact that Vermont is the only state that gives lawmakers the authority to veto a nuclear power plant. In February 2010, a month after Entergy's tritium scandal was exposed, the Vermont Senate voted 26–4 against issuing a new "certificate of public good" that would allow Vermont Yankee to continue operating.

Entergy Sues Vermont

In April 2011, Entergy's lawyers responded by suing the governor and the state, claiming, "We have a right to continue operation." On January 19, 2012, federal judge Garvan Murtha ruled that only the NRC could close a nuclear plant, and therefore Entergy was entitled to its new 20-year operating license. Murtha also made it clear that the Green Mountain State was not entitled to raise any questions regarding plant safety or the prices charged for nuclear power—under federal law, only the NRC could raise such matters.

The decision alarmed Beyond Nuclear and other critics who feared the nuclear industry and the federal government were working in concert "to pre-empt a state's right to self determination for an energy future in the public good." Senator Bernie Sanders (I-Vt.) quickly weighed in. "If Vermont wants to move to energy efficiency and sustainable energy," Sanders told the Burlington Free Press, "no corporation should have the right to force our state to stay tethered to an aging, problem-ridden nuclear plant."

Eight days after the judge's decision, Entergy refused the state's second request to investigate the source of a tritium leak that had poisoned a drinking well on the plant's property. On July 25, 2011, Entergy further demonstrated its disregard for due process by announcing a $60 million refueling project—an investment that would pay off only if the power plant won its extension.

Entergy's lawyers publicly confirmed their understanding that the company still needs the permission of Vermont's Public Service Board (a quasi-official board that oversees Vermont's utilities) if it is to continue operating its reactors. In a responding press release, however, the state's Department of Public Service (which represents the interests of utility customers in cases brought before the Public Service Board) cautioned, "Past experience shows Entergy cannot be taken at its word."

In a daunting struggle that pits 600,000 Vermonters against the US government, the nuclear industry, and the NRC, the state attorney general vowed to appeal Judge Murtha's decision—all the way to the US Supreme Court, if necessary.

"People don't trust the NRC," Bob Audette, a reporter for the Brattleboro Reformer told a film crew from the Center for Investigative Reporting (CIR). "They think it's the lapdog of the industry. They think it's there basically to affirm everything the industry does. It's too cozy with the industry."

In another interview with the CIR, Anthony Roisman, a legal consultant for New York and Vermont, expressed his concerns with the NRC: "This regulatory agency does not regulate effectively. And until it does, there is no way that the public can have any confidence that plants, whether they are licensed or re-licensed, won't have some catastrophic event. No one will benefit from a post-catastrophic-event hand-wringing that says, 'Oh we should have done this and we'll do better next time.' The consequences are unimaginable."
---