Next up in the Permaculture Q&A series, where we pose questions from our readers to our authors, Wayne Weiseman, co-author of Integrated Forest Gardening, talks about swales. Wondering what a swale is?
Read on to learn more about these water harvesting ditches and what questions to ask to determine if they are right for your landscape.
For more detailed information about permaculture plant guilds, including techniques for designing swales, check out Weiseman's recently released book which he co-wrote with authors Daniel Halsey and Bryce Ruddock—Integrated Forest Gardening: The Complete Guide to Polycultures and Plant Guilds in Permaculture Systems.

And, browse these previous posts from the "Permaculture Q&A" series for answers to questions about soil preparation, design patterns, invasive grasses, and more:
Michael Judd's Blueberry Soil Mix
Permaculture: An Economic Perspective
Eric Toensmeier on Aggressive Grass and Partial Shade
Toby Hemenway on Soil and Natural Patterns
Ben Falk Talks Nutrient Cycling
Kelly from AZ asks:
If you are not going to alley crop an area, how close would you build your swales from one another?
WAYNE WEISEMAN: A swale is a dead level ditch on contour. Contour lines are depicted on topographical maps at specific intervals and they delineate not only these dead level lines but also give us indication of where ridges and valleys have formed over geological time. Swales lie perpendicular (at right angles) to the slope and pick up all water moving downslope (by force of gravity), hold it, and percolate it into the soil profile slowly. Typically we begin our planting regimes downslope from the swale so that our young plants have the advantage of this slow percolation of water and the mechanism of capillary action through the soil pores. The small feeder roots on our plants now have the utmost opportunity to drink and take in minerals from the soil in solution.
There are many variables when it comes to designing a swale into a property. The first questions to ask are whether swales are applicable based on soil type, climate, rainfall averages and slope. But even before this, it is important to observe these aspects of place over a long period and begin to understand the patterns that present themselves from as many perspectives as possible, and especially during large rain events. We need to understand from which direction the water enters the property, how it flows through the property, and where it leaves it.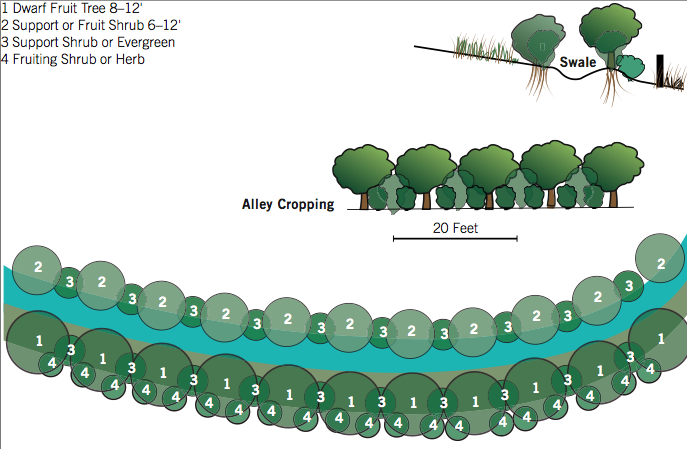 Additional key questions include: What will be planted on the berm and in the swale and up and down slope from them? In what part of the country is this land? What is the macroclimate of the region? What are the goals and vision of the owners? Is this simply a homestead where production will be meant only for the family or is this a market farm? How much planning has already been done and what has already been implemented on the property? Has there been insight as to how the entire infrastructure will be laid out? Why swales when there are many techniques in order to create redundancy in our water collection strategies: keyline, cisterns, ponds and other surface catchments, etc.
Swales are simply one of many tools utilized in order to slow water down and hold it in place so that plants have the needed time and resource to grow and thrive. As we hold water on a property we also hold topsoil. These two, water and soil, are our major concerns, and without cognizance of these two most important elements we cannot take the proper steps in order to find sustenance through our gardening or farming practice.
Remember, swales are one part of a comprehensive plan and permaculture is all about comprehensive planning. We start from the whole and move to the parts. Based on our ethics and basic principles and methodologies we work backward from the whole and configure what is needed to meet our vision and goals. If swales are applicable, then by all means we have to make sure that we do our due diligence and factor in all the variables for success. The question about distance of swales is a bit premature. Good design is predicated on rigorous observation and thoughtful design.
---