As Permaculture Month comes to an end, we wanted to share some final questions posed to our permaculture authors from our readers. Today, Daniel Halsey and Bryce Ruddock, authors of Integrated Forest Gardening, discuss the research they and others have done on plant guilds and how to implement these guilds based on differing water requirements.
For answers to questions about soil preparation, design patterns, swales and more, browse these previous posts from the "Permaculture Q&A" series:
Michael Judd's Blueberry Soil Mix
Permaculture: An Economic Perspective
Eric Toensmeier on Aggressive Grass and Partial Shade
Toby Hemenway on Soil and Natural Patterns
Ben Falk Talks Nutrient Cycling
Michelle from IL asks:
How much formal research, if any, has been done on guilds to understand how they work and why they work?
DANIEL HALSEY: Formal research about plant guilds requires a literature review of many studies that in aggregate contribute to the knowledge of how plants interact with each other and support or deter each other's growth. We must also define what a plant guild is. That and the assembly of guilds has been the focus of our book, Integrated Forest Gardening.
A plant, like insects, animals, and fish has a number of guilds. An insect for example has a predator guild including all the other insects that eat it. The plant will have a herbivore guild consisting of the group of insects or animals that eat it.
When we talk about an apple tree guild, we are referring to all the plants we use in the guild to support the apple tree. When we assemble these apple tree guilds, we can choose from many plants, but the needs of the apple tree ecology is what we are trying to fulfill. Thus we surround the apple tree with nitrogen fixtures, nutrient accumulators, aromatic pest confusers, soil builders, and hopefully beneficial insects and organisms. Each group of ecological functions and services provided by plants are also guilds, because they supply the same service. So you choose from a nitrogen fixing guild, a beneficial habitat guild, and soil cultivator guild. The word in front of "guild" describes what kind of guild it is.
As far as the efficacy of plant guilds, the research has been done by numerous and well-known individuals focusing on a specific ecological function or service. Much of the strategy has come from years of observation, study, and written in books by Robert Hart, Bill Mollison, Patrick Whitefield, and Dave Jacke. You can also read books by Dr. Elaine Ingham to find out about soil life and the interactions and importance of soil organisms to plants, among many other researchers.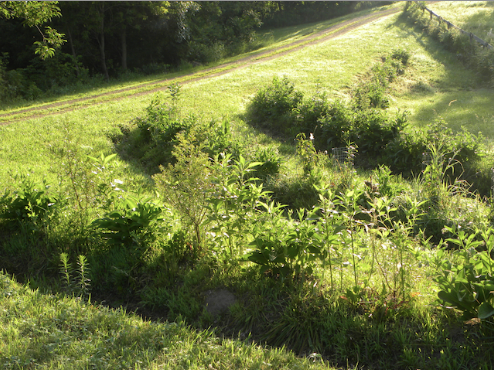 On the other hand, some of the research articles can also be quite specific, but applicable, such as with Dr. Nicholas Jordan (University of Minnesota) who has researched canadian wild rye and its facilitation in restoring soil organism populations in agricultural fields and entomologist Dr. George Heimpel.
Many times when you are looking to find a definitive answer to a question, the pieces to the puzzle come from many different boxes. We tried to assemble those pieces in our book Integrated Forest Gardening: The Complete Guide to Polycultures and Plant Guilds in Permaculture Systems.
Anna from New Mexico asks:
Dry climate in high altitude. There are some areas where I can collect more run off in my yard than others. For my food forest, would it be a good idea to plant low water together and those [plants] that need more [water] in the places I can collect more gentle rain run off? Or would it be better to mix them so something grows and then add the more needy plantings into an already existing planting? … I am having difficulty figuring out the guild things. Does it matter what I put together just as long as they complement in space/time and need?
BRYCE RUDDOCK: Setting up plant guilds based upon differing water requirements can allow you to use the micro niches on your property, the places where slight differences in soil type and drainage present the most challenges. These are of course the edges between areas where you have been collecting and infiltrating water, building a humus layer in the soil, and those places with stony and drier soils nearby.
Mixing the species together may work so long as more drought resilient plants are kept from getting soggy feet, which is probably not too likely in the high desert. Each guild should fade into the next so that rather than separate pockets of plant species, an uninterrupted progression of plants of different needs and yields will result. Of course, if the sites are widely separated, then the edge areas of interaction between the guilds are larger.
As a canopy species fills in with a crown of leaves and gains mature height it will result in more shade naturally, and some modifications to the design will occur either naturally, or by design. Many of the understory plants can thrive in varying regimes of light levels, from full sun to partial shade. Many of them will benefit from some shade during the hottest times of the year, during the afternoon hours when the heat is intense. A few species such as strawberries have cultivars and subspecies specific to different sunlight levels.
A major consideration in selecting plant guild species is how appropriate they are for the site. For dry land guilds, there are many species adapted over millenia by indigenous peoples that can fill the list of plants that will survive and are useful for human and animal needs. Too often a guild can be set up with species that are marginal for a site.  By working on building organic matter in the soil and enabling the growth of beneficial fungal, you can expand the choices of species that will work well in a guild. In the end, only you can decide which guild components are best for you. Follow the guidelines from permaculture and be ready to improvise according to your needs.
Integrated Forest Gardening and all of our permaculture titles are on sale for 35% off. Act now! Sale ends June 1.
---