When Allan Savory was a young man, he killed 40,000 elephants in an effort to save the African landscape. Common wisdom, and even the best science at the time, suggested that overgrazing was the main cause of the desertification they were seeing. But Savory and his team of scientists were wrong.
Instead of seeing the desertified land rebound with plant life, the areas cleared of elephants only got worse.
"Loving elephants as I do, that was the saddest blunder of my life, and I will carry it to my grave," Savory said in his recent TED talk. "But one good thing did come out of it. I have devoted my life to finding a solution."
That solution focuses on an unlikely tool in the fight against climate change: the soil. And Savory's innovative system of soil-care hinges on the work of a much-maligned partner: livestock.
Far from being the scourge of grasslands and mass emitters of methane that the environmental movement has made them out to be, sheep, goats, and cattle — properly managed — can do more to heal the planet than any other solution we've got. When livestock are managed to mimic nature, they improve the health of grasslands, encourage the building of topsoil, and create landscapes that can absorb and retain more water.
Grasslands evolved alongside massive herds of grazers, who had to bunch together to defend themselves from predators, and had to keep moving as they deposit manure on their food source. Their grazing, pooping, and trampling (as long as they keep moving in a bunch), knocks down mature grass to allow new growth to reach the sunlight. Roots grow more lushly as new shoots emerge, and more roots mean more water retention.
When soil retains enough moisture, it stores carbon as organic matter. Store enough organic matter in the soil and voila: you've fixed climate change! You can see the transformation Allan Savory's methods have achieved in this before and after image: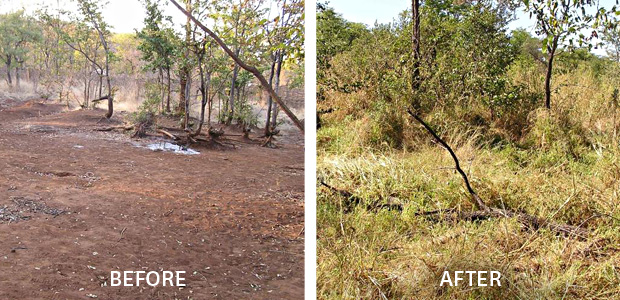 This kind of regenerative healing is exactly the opposite of what agriculture is currently doing. Industrial farming contributes 7% percent of US carbon emissions, much of that from depleted soils giving off the carbon they ought to be storing. As climate change accelerates, extreme weather events are happening more and more frequently. Droughts last summer killed 500 million trees across the US and destroyed an estimated $11 billion worth of crops and livestock.
But desert prophets like Allan Savory are not without hope that we can change the game in favor of soil. In his soon-to-be-released book Growing Food in Hotter Drier Lands, Gary Paul Nabhan shares lessons from dry-climate farmers around the world who have found ways to steward marginal lands and reclaim them from desertification. And Judith Schwartz's forthcoming book Cows Save the Planet explains how management methods like those pioneered by Savory are transforming our ideas of what livestock can do.
---