In the debate over climate change on Capitol Hill, President Obama's preferred term is "cap-and-trade." His plan would force polluters to pay to dump toxic emissions into our air by forcing them to buy "carbon permits," the price of which would climb every year until, theoretically, our goal of significant emissions reduction and renewable energy dominance over fossil fuels is reached.
The New York Times went to Chelsea Green authors Peter Barnes and George Lakoff for their expertise in their fields: environmental investing, and the political power of language, respectively. Barnes' book is the charmingly illustrated* and highly accessible Climate Solutions: A Citizen's Guide; George Lakoff is the author of New York Times bestseller Don't Think of an Elephant: Know Your Values and Frame the Debate, the indispensible political language guide for Progressives.
From the Times:
For Rep. Edward Markey (D-Mass.), it is "cap and invest." National Aeronautics and Space Administration climatologist James Hansen says it is "tax and trade."

Then there are "cap and cash back" and "cap and dividend," mottoes promoted by environmental investing expert Peter Barnes to describe proposals to cap greenhouse gases, often called "cap and trade."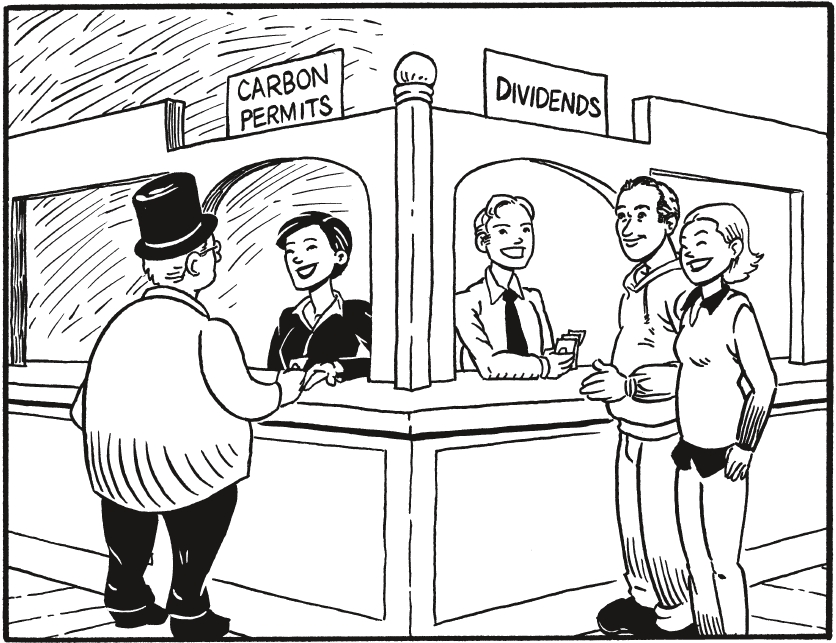 Language even popped up in February as a jurisdiction issue in Congress, when Rep. James Sensenbrenner (R-Wis.) and four other House Republicans argued that leading plans to address climate change are actually a "cap and tax" and therefore should begin their legislative path in the House of Representatives, since the Constitution states that all revenue bills must originate there.

Aware of the ability of slogans like "No Child Left Behind" to drive the debate on past topics, policymakers are ramping up their rhetoric about global warming like never before. All sides have opportunities to gain political traction by choosing their words carefully, even if President Obama's opponents appear to have the current edge in the communication war, many analysts say.

[…]

Several analysts said that opponents of the cap concept have found an effective tool in the word "tax," which has generated anger in the minds of Americans going all the way back to the Boston Tea Party. That word alone could do significant damage to Obama's plans, said George Lakoff, a professor of cognitive linguistics at the University of California, Berkeley.

"If 'cap and tax' becomes the defining term, it's going to take us six months to redefine it," added Strother. Environmental issues are a tough sell even in good economic times, he said, making the current environment especially difficult.
Read the whole article here.
---
*Full disclosure: Some of those charming illustrations were provided by yours truly. Shameless, me.
---