At Chelsea Green, our mission is to publish books designed to help people live more sustainable, self-sufficient, and ecologically conscious lives. Along with the books that we bring into print, we also partner with publishers and writers around the world and distribute their books throughout the United States.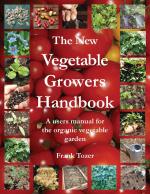 A new addition to our catalog comes from Green Man Publishing. Author Frank Tozer self-publishes books on plants and their uses. With an abundance of new information on even more crops, The New Vegetable Growers Handbook is the most comprehensive manual on vegetable gardening available. This updated version, like the original, covers the what, when and why of growing common and unique crops, firsthand from Tozer's gardening expertise.
We are also especially proud to partner with Permanent Publications, a forward thinking publisher in the UK. Like Chelsea Green, Permanent Publications produces innovative books and DVDs, and publishes the influential Permaculture magazine.
Below are the newest additions to our catalog from Permanent Publications.
Looking to eliminate debt and maximize freedom? Compact Living offers design solutions for minimalists, downsizers and small spaces. Embrace what you have, optimize your space and free yourself of clutter with Michael Guerra's latest book.
After finding himself dissatisfied with conventional life and traveling Europe, Michel Daniek has incorporated solar energy into his daily life. His second edition of Do It Yourself 12 Volt Solar Power will guide you through a sustainable, low-impact, low-cost approach to energy for any home – traditional or off the grid.
With unique recipes, projects and foraging tips for every season, Glennie Kindred reconnects us to the natural world. Letting in the Wild Edges encourages openness to the world around us, by incorporating simplicities of nature into our everyday lives.
The Moneyless Manifesto teaches us how to live more with less. After three years of living without money, Moneyless Man Mark Boyle breaks down his philosophy and experience of breaking free from the constraints of our modern financial system and living a truly sustainable life.
Kemp has become an expert on growing food in small spaces by feeding herself from her tiny balcony garden. With low-impact and high-subsistence standards, Permaculture in Pots provides the power and know-how to grow your own food even in the smallest of spaces.
The updated and revised edition of The Woodland Way is an alternative approach to healthy and diverse woodland management. Ben Law is creating a woodland renaissance in the UK, using permaculture woodlands for the betterment of community, environment and climate.
---