Well, congratulations, readers! We made it through the Mayan apocalypse, the solstice, the holiday shopping season, holiday travel with its inevitable weather hazards, and family get-togethers, with their inevitable emotional hazards.
The warmth of spring may still seem far off, but we're hard at work on the next round of Chelsea Green books. To inspire you to keep on trucking through the cold months, here are a few highlights from our Spring list.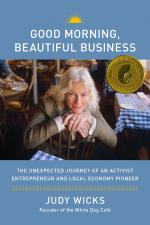 It's not often that someone stumbles into entrepreneurship and ends up reviving a community and starting a national economic-reform movement. But that's what happened when, in 1983, Judy Wicks founded the White Dog Café on the first floor of her house on a row of Victorian brownstones in West Philadelphia.
Good Morning, Beautiful Business is BALLE founder Wicks's memoir, tracing the roots of her career and exploring what it takes to marry social change with commerce to do business differently. Passionate, fun, and inspirational, Good Morning, Beautiful Business explores the way entrepreneurs can follow both mind and heart, do what's right, and do well by doing good.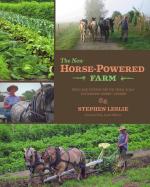 If you think farming with horses instead of tractors sounds merely quaint or old-fashioned — think again.
Small farmers across the country have quietly been perfecting the age-old skills of draft horse farming, and our forthcoming book The New Horse-Powered Farm shows off all they've done to preserve and advance this ancient and inherently sustainable skill set. Author Stephen Leslie shares tips on getting started with horses, care of the work horse, different horse-training systems, and the merits of different draft breeds.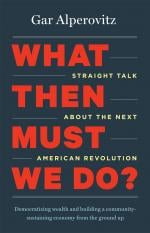 Never before have so many Americans been more frustrated with our economic system, more fearful that it is failing, or more open to fresh ideas about a new one. The seeds of a new movement demanding change are forming.
In What Then Must We Do?, Gar Alperovitz proposes a possible next system that is not corporate capitalism, not state socialism, but something else—something entirely American. Alperovitz's new system would democratize the ownership of wealth, strengthen communities in diverse ways, and be governed by policies and institutions sophisticated enough to manage a large-scale, powerful economy.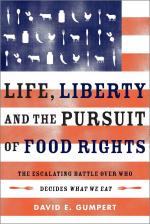 How could something as innocent as a glass of milk be the cause heavily-armed federal officers to raid a California farmstand? In David Gumpert's new book, Life Liberty and the Pursuit of Food Rights, you'll find out.
Journey with Gumpert from Maine to California through a netherworld of Amish farmers paying big fees to questionable advisers to avoid the quagmire of America's legal system, secret food police lurking in vans at farmers markets, cultish activists preaching the benefits of pathogens, U.S. Justice Department lawyers clashing with local sheriffs, small Maine towns passing ordinances to ban regulation, and suburban moms worried enough about the dangers of supermarket food that they'll risk fines and jail to feed their children unprocessed, and unregulated, foods of their choosing.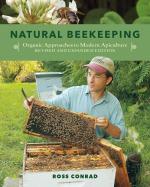 Ross Conrad's book Natural Beekeeping was an instant classic when it was first published in 2007. Now, a full-color, revised and expanded second edition will introduce a new generation of small farmers and gardeners to the best in safe and organic practices for raising healthy bees.
New sections in this expanded edition include: the basics of bee biology and anatomy, urban beekeeping, identifying and working with queens, parasitic mite control, and hive diseases.
Also forthcoming this spring is a DVD of one of Conrad's popular beekeeping workshops. Learn from the master himself, with none of the hassle of traveling to a workshop, plus the oh-so-modern ability to pause and rewind if he talks too fast. The new edition of Natural Beekeeping and the DVD will also be available as a set.
---