It's that time of year when our Fall books begin to hit the bookstores. Their first stop, however, is a visit with key book reviewers whom we hope (fingers crossed) will enjoy them enough to recommend them to their readers (which include bookstore owners, librarians, and other bibliophiles).
A fair number of our recent releases have garnered some great reviews from publications that focus specifically on the book industry.
Here are snippets from some of the best of these early reviews that we thought we'd share with you:
Power from the People – ForeWord Reviews
"The movement to source energy at the local level has boomed in recent years. Power from the People is a good guide for entrepreneurs looking to get in on the trend in an environmentally conscious way. From the Burlington Cohousing Solor Project in Vermont to liquid biogas initiatives at Quad County Corn Processors in Iowa to geothermal power plants at the Oregon Institute of Technology, Power from the People gives real-life examples of the ways that a community can energize itself. Containing appendices with extensive endnotes, a virtual library of additional resources, and a glossary of common industry terms, this book provides a great starter guide for anyone pursuing a local energy project."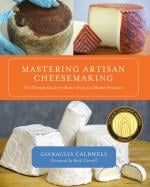 Mastering Artisan Cheesemaking – ForeWord Reviews
"Somewhere between art and science, cheesemaking is not for the faint of heart. Caldwell begins her guide to the enterprise with a great deal of science. An extremely nuanced process becomes friendly through the author's cheery advice and enthusiasm, then the book transitions into recipes that range from simple to quite advanced. A great guide for beginners and experts alike, Caldwell makes sense of the culture of cheese-making. From equipment to acidity, humidity to storage, Caldwell takes care to make sense of every step and each element. Throughout the process, she offers multiple options for further study and understanding, encouraging her readers to embrace the art, science, and community of cheesemaking. Caldwell's comforting and impassioned talk of cheese will encourage any student willing to take on the adventure of cheesemaking. With its depth of information, this book will keep on giving as cheesemakers increase their mastery of the craft."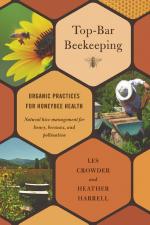 Top-Bar Beekeeping – ForeWord Reviews
"Farmers who seek a guide to hive maintenance told through a thoughtful personal narrative will benefit from the discussion of this topbar style of beekeeping. The first-person style of the book allows a window into the practices of the topbar beekeeper while conveying a wealth of knowledge and a well-researched comparison of hive practices. The book is appropriate for beginning beekeepers as well as those experienced but looking for information on natural and organic beekeeping practices. Whether the reader is looking to start their own hive or simply increase their knowledge of honeybees, the book provides interesting and detailed discussions of all aspects of raising them. Crowder and Harrell offer not only advice on how to get started, but an in-depth discussion of all aspects of keeping a hive, from bee capture, breeding, and selection to honey processing. They have crafted a book that is both informative and engaging, filled with introspective advice and practical knowledge."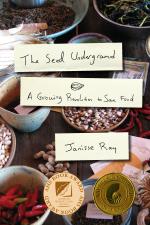 The Seed Underground – Kirkus Reviews
Ray unabashedly proclaims that seeds are "miracles in tiny packages." Through accounts of her own journey in saving them, as well as facts and anecdotes, she urges readers to consider the practice, in order to avoid genetic erosion, to improve health, to work against a system that determines and limits availability, and more. Without stridence, Ray forthrightly presents her case, advocating for small organic farmers and less corporate dependence. In her most persuasive chapters, she recounts her travels in Georgia, Vermont, Iowa and North Carolina to meet others involved in saving specific varieties. Readers new to the topic will find that Ray's impassioned descriptions skillfully combine discussions on plant genetics and the metaphorical potential of seeds. With a nod toward Wendell Berry, this work emphasizes the importance of individuals working as a community. Recommended for experienced gardeners—guerrilla or otherwise—and novices searching for alternatives to processed, corporatized food.
---