Gourmet Adventure Month is here, and we've got a great selection of "safari guides" to help you survive your voyage into the flavorful wild.
Don't fear, as you leave the well-worn path behind. Turn away from white rice, bland bread, and sorry salads. A whole world of exciting, nurturing foods await—from the idyllic isles of Denmark to the weeds in your own backyard.
These fun food books will be on sale for 35% off this week.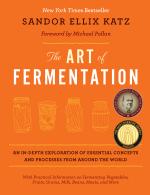 Reg. Price: $39.95
Sale Price: $25.97
The Art of Fermentation: An In-Depth Exploration of Essential Concepts and Processes from Around the World
Did you know there's more bacterial DNA in your body than human DNA? Better make friends with them!
The Art of Fermentation, Sandor Katz's encyclopedic and inspiring guide to all things tangy and alive, will get you started on the right foot with your microbial buddies. Not even scientistss fully understand how probiotic, live-culture foods help keep us healthy, but Katz's main concern is deliciousness. From yogurt to kimchi to sourdough bread, once you go wild, you'll never go back!
.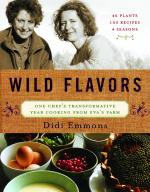 Reg. Price: $34.95
Sale Price: $22.72
Wild Flavors: One Chef's Transformative Year Cooking from Eva's Farm
Is the produce aisle seeming a little too tame lately? Mass-produced tomatoes with no flavor, kale greens tough from spending days in a truck, the same old broccoli again and again.
Wild Flavors delivers exactly what its title promises. Chef Didi Emmons spent a year visiting Eva Sommaripa's farm, which provides fresh greens, herbs — and vegetables commonly known as weeds — to Boston restaurants. Calaminth, purslane, arugula flowers? Pure, yummy magic. Even Didi's cat Henry — pictured above, attacking the asparagus — went a little wild on Eva's farm.
.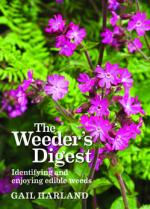 Reg. Price: $17.95
Sale Price: $11.67
The Weeder's Digest: Identifying and Enjoying Edible Weeds
Fighting weeds in your garden is tough work. Gail Harland's new book, The Weeder's Digest, sets out to make it a little sweeter.
With color photos throughout, and plenty of recipes, the book will show you which plants formerly known as weeds you can eat, how to cook them, and how to identify the ones you should avoid.
Weeds, if you can't beat 'em, eat 'em!
.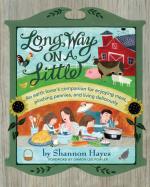 Reg. Price: $34.95
Sale Price: $22.72
Long Way on a Little: An Earth Lover's Companion for Enjoying Meat, Pinching Pennies and Living Deliciously
Author Shannon Hayes is on a mission to help cooks enjoy ethical meat.
In her latest book, Long Way on a Little, she explains how to use as much of the animal as possible, how to cook grassfed meat properly, how to render fat into lard, and much, much more. It's the only cookbook a meat lover needs.
.
.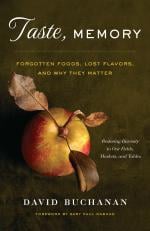 Reg. Price: $17.95
Sale Price: $11.67
Taste, Memory: Forgotten Foods, Lost Flavors, and Why They Matter
Taste, Memory traces the experiences of modern-day explorers who rediscover culturally rich forgotten foods and return them to our tables for all to experience and savor.
Author David Buchanan explores questions fundamental to the future of food and farming. How can we strike a balance between preserving the past, maintaining valuable agricultural and culinary traditions, and looking ahead to breed new plants? What place does a cantankerous old pear or too-delicate strawberry deserve in our gardens, farms, and markets? To what extent should growers value efficiency and uniformity over matters of taste, ecology, or regional identity?
.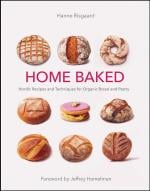 Reg. Price: $39.95
Sale Price: $25.97
Home Baked: Nordic Recipes and Techniques for Organic Bread and Pastry
Baking your own bread is an adventure every time. Will your kitchen be at the right temperature or humidity to make your dough behave? Will it end up sticky and unmanageable, or rising too fast? Forming a relationship with flour, water, yeast, and salt is part of why baking is so much fun.
Home Baked is a guide book to further adventures with dough. Beyond just your typical wheat flour, this book introduces spelt and rye, plus a Nordic flair for special ingredients like wildcrafted stinging nettles, leeks, elderflowers, and more.
.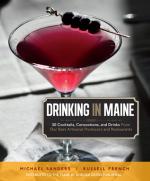 Reg. Price: $18.00
Sale Price: $11.70
Drinking in Maine: 50 Cocktails, Concoctions, and Drinks from Our Best Artisanal Producers and Restaurants
Fifty sensational drinks featuring Maine distilled gins, vodkas, brandies, local honey meads, fruit wines, and heirloom apple ciders — all created by producers and barkeeps from Maine restaurants and bistros
From a piping hot Apple Toddy featuring Maine mead, gin, and cranberry bitters; to a cooling fresh take on summer's all-time favorite drink, Back Porch Lemonade with Cold River Vodka and local ginger beer, you'll find drinks for all seasons and all tastes.
.
---