While no single book can definitively answer the thorny question of how to feed the Earth's growing population, Defending Beef makes the case that, whatever the world's future food system looks like, cattle and beef can and must be part of the solution.
In Defending Beef, Nicolette Hahn Niman — a longtime vegetarian — argues that cattle are neither inherently bad for the Earth nor is meat bad for our own nutritional health. In fact, properly managed livestock play an essential role in maintaining grassland ecosystems by functioning as surrogates for herds of wild ruminants that once covered the globe.
Hahn Niman, a former environmental attorney and activist, dispels popular myths about how eating beef is bad for our bodies. She methodically evaluates health claims made against beef, demonstrating that such claims have proven false.  Grounded in empirical scientific data and with living examples from around the world the author shows how foods from cattle – milk and meat, particularly when raised entirely on grass – are healthful, extremely nutritious, and an irreplaceable part of the world's food system.
She also criticizes the modern, industrial food system — especially as it pertains to meat production — for being harmful to animals, the environment, and our health. Here's a short excerpt from the book's final analysis: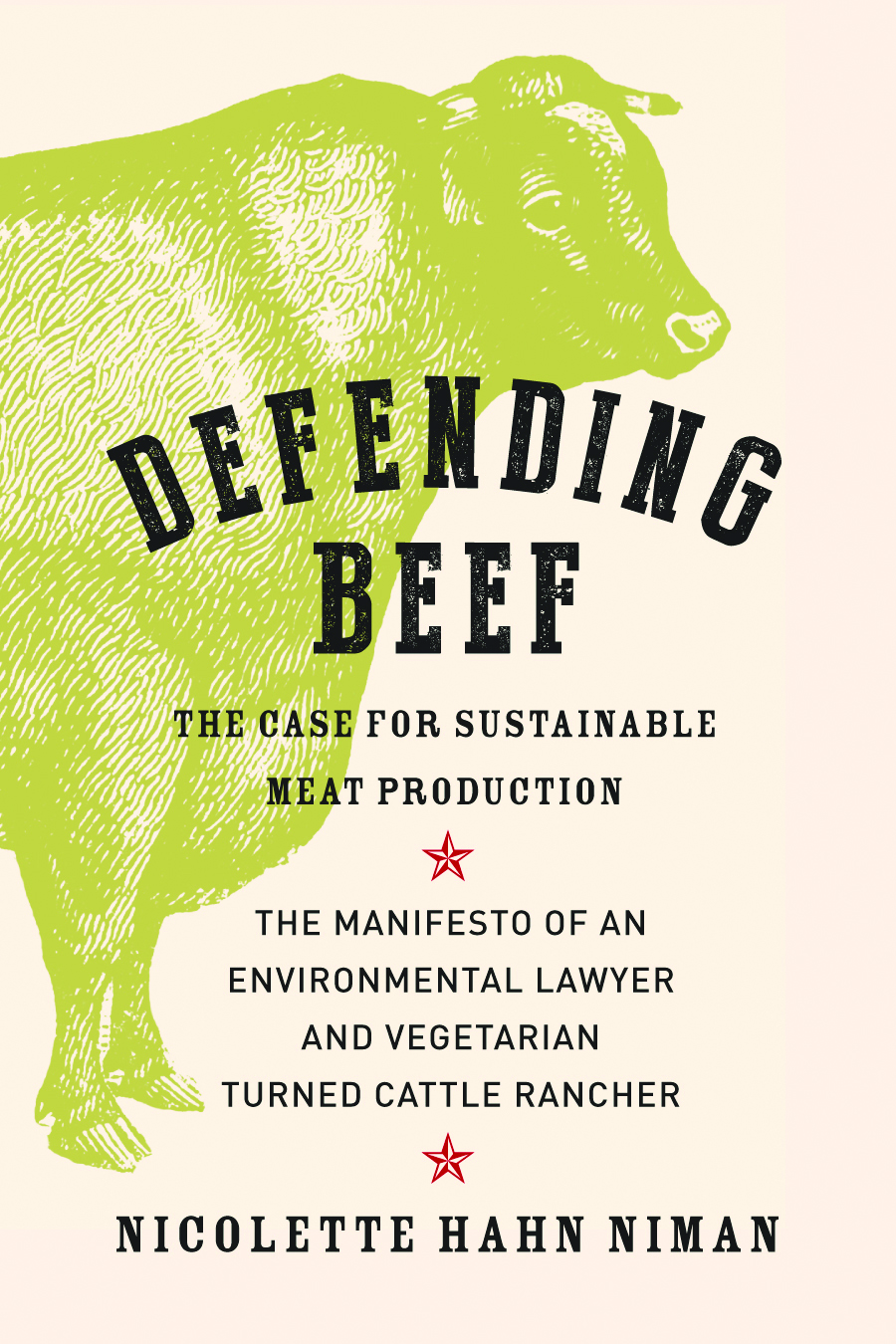 "I will be the first to agree that industrial methods for raising farm animals are indefensible, and I believe all people should join in rejecting them. Having seen it in all its gory details, I have no qualms about calling industrialized animal production a routinized form of animal torture. While Prohibitionists attacking innocent apple trees with axes seem absurd to us today, a lot of discussion over the ethics of meat eating likewise focuses on the wrong villain. Industrial animal production is rightly vilified; animal farming, on the other hand, is not.
What has really fostered my interest in the debate over meat eating is not a desire to encourage meat consumption but a longing for some nuance in the discussion. The issue is far from black-and-white, and polarized camps lobbing accusations at each other only hinder movement toward a better system. Building a food system that is more ecological and more humane is far more important to me than whether or not so-and-so is eating meat.
I believe the real issue is whether we humans are living up to our responsibilities of good stewardship of animals and the earth. Michael Pollan and others have proposed the idea that animals "chose" domestication based on a sort of "bargain" with humanity.  (…) However, it's reasonable to assume, as well, that animals would never have opted for such an arrangement if torture had been part of the deal. Stated simply: By raising animals in factory farms, humans are violating their age-old contract with domesticated animals.
(…)
Individuals and groups are rightly concerned about adequate food supplies for the future. But they would do well to focus their attention on this imminent crisis, and on the way livestock are managed on the land, rather than on the absolute number of livestock, which has little significance. Properly managed grazing animals are an important part of the solution to feeding the world in the future."
For more from Defending Beef, click here to read the Preface and Introduction.
---