Conscience vs. Consumerism: Support Local Food
When it comes to food, Sandor Katz—guru of the underground food movement, lifelong activist, and food lover—calls all you guerilla gardeners, you freaky foodies, you conscious consumers, you modern, forward-thinking politickers…to choose local over convenience when it comes to groceries.
Now that's a revolutionary concept. And it's complicated; because lots of people can only afford what's convenient, and work too hard and too long for anything other than convenient grocery shopping. But convenience comes at a price.
Below is an excerpt from The Revolution Will Not Be Microwaved: Inside America's Underground Food Movements by Sandor Katz. It has been adapted for the Web.
Convenience is great. We all love it because, by definition, it makes our lives easier: "suited to one's personal ease or comfort." Supermarkets in the middle of the night are calm, can be fun, and make us feel secure because we can satisfy any whim at any moment. And the right yummy treat, in the right place, at the right time, can be a godsend. We all know how easy it is to become accustomed to ready access to familiar foods regardless of time (season) and space (location). But at what price? What's wrong with catering to the convenience of the consumer? Why can't we just enjoy the fact that most members of our affluent society have an unprecedented range of food products to choose from, including those labeled organic, free range, grass fed, and fair trade?
Follow the money. In a traditional local food system, wealth (in the form of food) is created locally, from the land worked by the people. The money people spend on food in that context gets recirculated locally, and food production is a significant generator of economic activity: it supports local mechanics, babysitters, craftspeople, and other local food producers. In economics, this phenomenon is called the multiplier effect. A dollar spent on a local grower's produce will continue to circulate locally and multiply its benefits through economic stimulation.
In sharp contrast to the simple and visible exchanges that characterize the path of locally produced food, globalized corporate food follows a long and largely inscrutable chain of transactions, most of which is invisible to the consumer. In this food system, only a tiny proportion of what consumers spend on food at the store goes to the people who grow it. The bulk of our food spending immediately departs from our local communities into the unfathomably huge infrastructures of the shipping and trucking, food-processing, marketing, and retailing industries. Frances Moore Lappé, author of Diet for a Small Planet, whose food activism has had tremendous influence since the 1970s, describes this phenomenon as "a colossal transfer of income and capital from producers to middlemen—to the agricultural equivalents of Wall Street arbitrageurs and bond sellers."1 Rather than paying for food itself, we are paying for an elaborate system for getting it to the right place, at the right time, in the right processed form, and in the right package.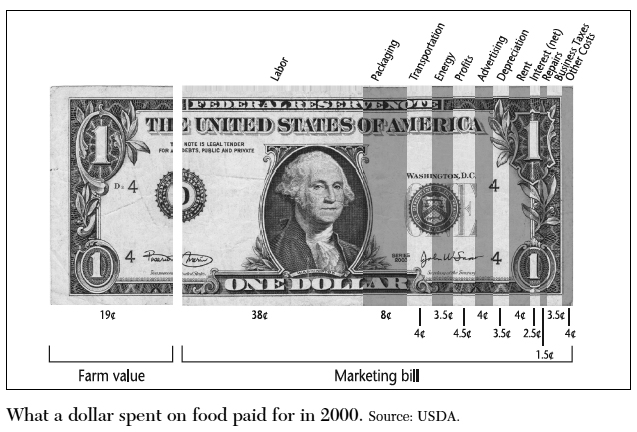 The U.S. Department of Agriculture (USDA) annually publishes the Agriculture Fact Book, which contains a figure of a dollar bill broken into segments to represent the allocation of each dollar we spend on food. The 2001–2002 Fact Book showed that farmers received nineteen cents per food dollar; the remaining eighty-one cents went toward everything else, subsumed under "marketing."2 This shocking statistic reveals the distorted values of our consumerist culture.
---
Notes
Frances Moore Lappé, "Food, Farming, and Democracy," The Journal of Gastronomy 5, no. 2 (Summer–Autumn, 1989), quoted in Betty Fussell, The Story of Corn (New York: North Point Press, 1992), 162.
Agriculture Fact Book 2000 (Washington, DC: U.S. Department of Agriculture Office of Communications, 2000), 21.
---