September is Preparedness Month!
We never want bad things to happen, but they're inevitable. Natural disasters such as earthquakes, tornadoes, floods or man-made disasters like fires, or power outages and fuel-price spikes can easily disrupt our way of life.
We want you to be ready no matter what, so in honor of Preparedness Month we've put select books on sale this week to help you be prepared for unexpected, short-term emergencies as well as long-term emergencies.
From survival guides to forecasts of the future and how-to guise to help communities be more self-reliant and resilient, this set of books should help you take stock and make plans to keep yourself and your family safe from harm and discomfort.
To get a sample of what author Mat Stein — whom Chris Martenson recently called a guru of self-resiliency — check out his recent interview that is posted on Martenson's website, Peak Prosperity.
"Whether you're concerned about the fallout from a breakdown of today's weakened global economy, or simply want to be better able to deal with the aftermath of a natural disaster if you live in an earthquake/hurricane/flood/wildfire/tornado-prone part of the world, the personal resiliency measures Mat recommends make sense for almost everyone to consider," writes Martenson.
Couldn't have said it better. Enjoy this thoughtful and thorough interview (audio and a printed transcript are available) and then check out Mat's books below.
Books are on sale for 25% off until September 19.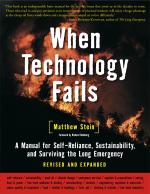 Reg. Price:$35.00


Sale Price:$26.25
When Technology Fails: A Manual for Self-Reliance, Sustainability, and Surviving the Long Emergency
There's never been a better time to "be prepared." Matthew Stein's comprehensive primer on sustainable living skills—from food and water to shelter and energy to first-aid and crisis-management skills—prepares you to embark on the path toward sustainability. But unlike any other book, Stein not only shows you how to live "green" in seemingly stable times, but to live in the face of potential disasters, lasting days or years, coming in the form of social upheaval, economic meltdown, or environmental catastrophe.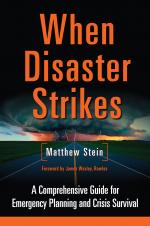 Reg. Price:$24.95


Sale Price:$18.71
When Disaster Strikes: A Comprehensive Guide for Emergency Planning and Crisis Survival
In this disaster-preparedness manual, Matthew Stein outlines the materials you'll need—from food and water, to shelter and energy, to first-aid and survival skills—to help you safely live through the worst. When Disaster Strikes covers how to find and store food, water, and clothing, as well as the basics of installing back-up power and lights. You'll learn how to gather and sterilize water, build a fire, treat injuries in an emergency, and use alternative medical sources when conventional ones are unavailable.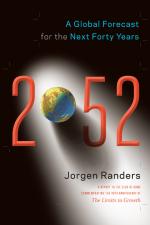 Reg. Price:$24.95


Sale Price:$18.71
2052: A Global Forecast for the Next Forty Years
What does our future look like? In the book 2052, Jorgen Randers, one of the co-authors of Limits to Growth, issues a progress report and makes a forecast for the next forty years. To do this, he asked dozens of experts to weigh in with their best predictions on how our economies, energy supplies, natural resources, climate, food, fisheries, militaries, political divisions, cities, psyches, and more will take shape in the coming decades.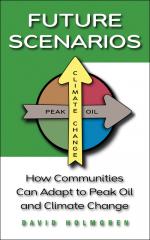 Reg. Price:$12.00


Sale Price:$9.00
Future Scenarios: How Communities Can Adapt to Peak Oil and Climate Change
Permaculture co-originator and leading sustainability innovator David Holmgren outlines four scenarios that bring to life the likely cultural, political, agricultural, and economic implications of peak oil and climate change, and the generations-long era of "energy descent" that faces us.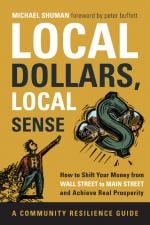 Reg. Price:$17.95


Sale Price:$13.46
Local Dollars, Local Sense: How to Shift Your Money from Wall Street to Main Street and Achieve Real Prosperity
The first in our Community Resilience Guides series – in partnership with the Post Carbon Institute – this book explains how local investment can make for a strong economy.
---