From Civil Eats and Grace Links, a map that lists farms needing help in the northeast and benefit events they've already scheduled! Yet another way technology can be harnessed to help those in need.
On the morning of August 28th, Hurricane Irene made landfall in the northeast, causing the worst flooding eastern upstate New York and Vermont have seen in centuries. Among those hardest hit were many local farms and dairies. In less than 24 hours, agricultural businesses suffered massive damage in the form of flooded fields, drowned livestock, power outages, and broken infrastructure. We've mapped as many as we could find, as well as local events organized to support them.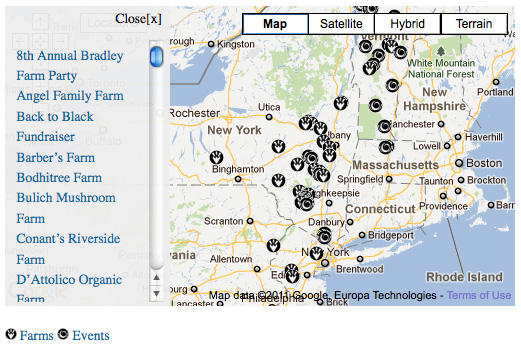 Map: In an area impacted by Hurricane Irene and wondering how to help? The icons on this map represent farms dealing with the aftermath of the storm, as well as the events, benefits and fundraisers organized to support them. Know of one we missed? Let me know at Jennifer[at]gracelinks.org.
---