The following article and recipe was excerpted from Renewing America's Food Traditions: Saving and Savoring the Continent's Most Endangered Foods.
Narragansett Turkey
Named for Narragansett Bay in Rhode Island, where it was first developed by early colonists, this rare standard breed of heritage turkey emerged from crosses between the wild turkeys of eastern America and already domesticated turkey breeds such as the Norfolk Black. The Norfolk Black is one of the breeds derived from the Mexican turkey landraces that were first brought to Europe in the sixteenth century and that then returned to the Americas in the first century following colonization. The Narragansett breed is legendary for its stunning beauty, with black metallic plumage on its breast and back, banded black and gray tail feathers tipped with white, and toes and shanks that turn a deep salmon. The wattles on the face and throat typically have a rich red hue.
And yet its colorful feathers are not the only reason that the Narragansett has been so highly esteemed throughout most of American history. It is larger and hardier than most common farmyard turkeys, with mature toms weighing in at thirty-three pounds and hens at around eighteen pounds. In its Clambake Nation homeland of Rhode Island and Connecticut, it can survive without much supplemental feed, subsisting on grasshoppers, crickets, and other insects that would otherwise damage farmers' crops. The Narragansett was therefore kept in large flocks that foraged through fields and orchards. According to the December 1872 issue of The Poultry World, at that time it was not uncommon to find on a single farm a flock of some one or two hundred Narragansetts, whose population was sustained year after year by a dozen or so breeding hens. The rest went off to market, with young toms dressing out at fourteen pounds and six-month-old toms reaching twenty-eight pounds by Thanksgiving time.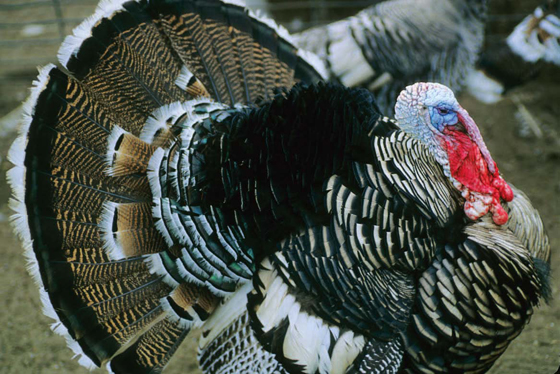 One of the few species of tended fowl originating in the Americas, the turkey was first domesticated in Mexico more than 2,000 years ago. Although there were already wild subspecies of the turkey in North America by the time the first farmers harvested their crops there, the domesticated turkey was introduced in prehistoric times from Mexico into what is now the U.S. Southwest. It not only proliferated as a multipurpose farm animal but also garnered considerable ceremonial and symbolic significance. Multicolored petroglyphs of domestic turkeys still adorn the sandstone walls of canyons in the U.S. Southwest, near prehistoric Pueblo ruins where turkey bones and mummified turkey carcasses have been excavated.
Soon after the Spanish reached Mexico, domesticated turkeys were taken both to Europe and to regions of the North American continent, where some heritage breeds crossed with the local wild subspecies, diversifying the gene pool. Eight to ten American standard breeds have been recognized over the last century and a half, with the characteristics codified by the American Poultry Association's (formerly) annual publication, Standard of Perfection. The Narragansett was first admitted to the Standard of Perfection roster in 1874, although by that time it was already a widely recognized breed. In fact, it became the foundation for the historic turkey industry in Clambake and Maple Syrup Nations, where it remained prominent into the early twentieth century. And yet by the end of that same century, it had been all but replaced by modern breeds of white turkeys, with only sixty-six hens and twenty-eight toms of Narragansetts comprising the entire gene pool for the breed by 1999.
Since then, the Narragansett has garnered considerable interest among producers, consumers, and chefs as one of several standard breeds of heritage turkeys that have suddenly received a flurry of media attention. Through a collaboration that was spearheaded by the American Livestock Breeds Conservancy with the help of Slow Food USA, dozens of producers have been enlisted to produce these standard turkeys for Thanksgiving feasts once again. The breed is listed on the Slow Food USA Ark of Taste, which has helped to bolster its revival along with that of other standard breeds such as the Bronze, Black Spanish, Bourbon Red, and Slate.
For a traditional recipe used in Clambake Nation during the time this breed was in its heyday, we have adapted one that appears to have been popular in the mid-1800s. It features another Native American food that was then popular along the mid-Atlantic coast, the Jerusalem artichoke (see page 71). It was included in Mrs. B. C. Howard's (1873) edition of Fifty Years in a Maryland Kitchen.
Roast Narragansett Turkey with Jerusalem Artichokes
1 small Narragansett turkey, plucked (typically 12 to 18 pounds)
2 tablespoons sea salt
1 teaspoon freshly ground black pepper
1 tablespoon dried marjoram or sweet basil leaves
1/4 cup finely chopped flat-leaved parsley
1/2 cup whole-wheat bread crumbs
1 tablespoon unsalted Jersey cow butter
1/4 cup coarsely chopped Golden Yellow celery stalks
2 tablespoons minced celery tops
1 small white Egyptian Walking onion, chopped
2 tablespoons lard
1 quart Jerusalem artichokes, washed and peeled
Several days before roasting, wash a small to medium-sized Narragansett turkey until it is clean, then rub its skin all over with salt; rub the cavities of the bird with salt, pepper, sweet basil or marjoram, and some of the finely chopped parsley. Stuff the cavities with a mix of bread crumbs, a lump of butter mixed with salt and pepper, the rest of the chopped parsley, and half of the chopped celery and onion. Set aside, sealed in a plastic bag, for 2 days in a refrigerator.
On the day of the feast, place some lard in a Dutch oven until it melts and is boiling, then brown the turkey in this grease, turning the bird from one side to the next until all sides are equally browned. Pour off all the grease from the Dutch oven and then pour a quart of boiling water into the oven until the bird is entirely covered, with at least an inch of water above its highest crest. Add the rest of the chopped onion, the celery tops, and the celery stalks, the latter tied with string into a compact bunch. Begin cooking all these ingredients in the Dutch oven about one and a half hours before serving, slowly stewing them, ladling the juices over the bird. About 40 minutes into the cooking in the Dutch oven, pour a quart of washed and peeled tubers of Jerusalem artichokes around the turkey, and occasionally ladle juices over them as well.
---