RECIPE: Summer Cherry Cornmeal Cobbler
It's that time of year again: Outdoor barbecues are a weekend staple, trips to the beach and pool are becoming more frequent, and cherries are ripe for the picking! In their book, Cooking Close to Home: A Year of Seasonal Recipes, authors Diane Imrie and Richard Jarmusz provide a seasonal guide chock full of recipes to inspire you to create delicious and nutritious meals using ingredients sourced from your own community all year long.
So visit your local farmers' market or find a "pick your own" cherry orchard nearby and stock up—this sweet homestyle cobbler awaits!
---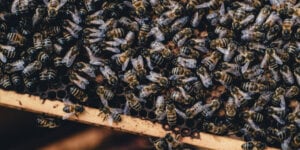 Spring is here and I don't know about you, but I can't wait to get started on all of the projects I mapped out during the cold winter months – including trying my hand at incorporating bees into my homesteading adventure! As a new-bee (get it?!), I need help to get started so I did…
Read More