From the Homemade Hooch Files: How to Make Dandelion Wine
Heads up: you definitely don't want to be spraying weed killer on your dandelions. If your lawn is a total dandelion breeding ground, you are so close to having some delicious wine! Get out there and pick some so you can get started on fermenting a batch of flower wine. This drink is not only tasty, but is said to have liver-cleansing properties as well!
The following recipe is an excerpt from Wild Fermentation by Sandor Katz.
---
"Wine made from flowers preserves the exquisite flavors and benevolent properties of the blossoms from which it is made. It also preserves the memories of fine, clear, sunshiny days—alone or with Someone Else—in woods, meadows, and hills, picking millions of tiny flowers for hours until they become etched on the insides of the eyelids." These wise words were written by my friend and neighbor Merril Harris, in an article, "Nipping in the Bud: How to Make Wine from Flowers," published in Ms. Magazine nearly thirty years ago.
Dandelion wine is the classic flower wine, made with the bright yellow flowers of the plentiful and easy-to-find weed. Don't believe the hype of the manicured lawn lobby; dandelion is not only beautiful and tasty, but potent liver-cleansing medicine. Many other flowers can transfer their delicate bouquets and distinctive essences into wines, as well, including (but certainly not limited to) rose petals, elderflowers, violets, red clover blossoms, and daylilies.
"Begin by gathering your flowers," writes Merril, "perhaps the most pleasurable part of the winemaking process." As a general guideline, pick about a gallon of flowers per gallon of wine you intend to make. If you cannot gather this many in a single outing, freeze what you gather until you accumulate enough. Be sure to pick flowers from places that have not been sprayed, which usually means not roadsides.
Timeframe:
1 year or more
Ingredients (for 1 gallon/4 liters):
1 gallon/4 liters flowers in full bloom

2 pounds/1 kilogram (4 cups/1 liter) sugar

2 lemons (organic, because you will use the peel)

2 oranges (organic, because you will use the peel)

1 pound/500 grams raisins (golden raisins will preserve the dandelion's light hue better than dark raisins)

Water

1⁄2 cup/125 milliliters berries (for wild yeast) or 1 packet wine yeast
Process:
As much as possible, separate flower petals from the base of the blossoms, which can impart bitter flavors. With dandelions this can be a tedious project.

Reserving about ½ cup/125 milliliters to add later in the process, place the flower petals in a crock with the sugar, the juice and thinly peeled rinds of the lemons and oranges (to add acidity), and the raisins (to introduce astringent tannins). Then pour 1 gallon (4 liters) of boiling water over these ingredients, and stir until sugar is dissolved. Cover the crock to keep flies away, and leave to cool to body temperature.

Once the mixture cools, add the reserved flower petals and berries to introduce wild yeasts. (Or to use commercial yeast, remove 1 cup of the cooled mixture, dissolve a packet of yeast into it, and once it starts to bubble vigorously add it to the crock.) Cover the crock, and stir as often as you think of it, for 3 to 4 days.

Strain out the solids through a clean cheesecloth and squeeze moisture out of the flowers. Then transfer liquid to a carboy or jug with an airlock, and ferment about 3 months, until fermentation slows.

Siphon into a clean vessel and ferment at least 6 months more before bottling.

Age bottles at least 3 months to mellow wine; even longer is better.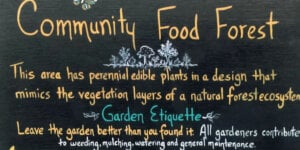 More than 80 percent of the US population now resides in urban areas. This number is projected to rise in the next few decades. Finding ways to maximize use of existing open space is imperative, and increasing access to food through sustainable management of edible landscaping is one important approach among many that are underway.…
Read More