Revisiting Naomi Wolf's Call to Patriots–10 Years Later

Reading Naomi Wolf's book The End of America: Letter of Warning to a Young Patriot today is an eerie experience. Written in 2007, it detailed the ways in which the Bush administration was beginning to chip away at the freedoms of American citizens. It outlined the ten steps dictators or would-be dictators take when their goal is to close down an open society and proposed that all ten were currently underway. Invoke an internal and external threat; restrict the press; and cast criticism as "espionage" and dissent as "treason," among others. Sound familiar? We would all do well to revisit her prescient account and heed the advice in this remarkably relevant call to arms from the conclusion of her book:
The Patriot's Task
So it turns out we really are at war–a long war, a global war, a war for our civilization. It is a war to save our democracy. Each one of us needs to enlist. We have no one to spare.
We need citizens from across the political spectrum to carry forward the Founders' banner together. Everyone can see this movement as expressing his or her most cherished values and will frame the effort according to his or her own subculture and language. Progressives may see this "American awakening" as a liberation or, at the least, as a campaign, while conservatives may well see the same movement as "conservative" in the truest sense–a return to a stewardship of the Founders' vision. Surely "liberty" as the Founders understood it–eighteenth-century Enlightenment liberty–is the grounding of both classical conservative and classical liberal American values.
These diverse American citizens may even, in this movement, truly encounter their counterparts across the political spectrum and learn to talk to each other once again directly, as neighbors, interlocutors, and fellow patriots.
New surveillance technologies mean that today's patriots have some housekeeping to do before they can move forward effectively. This is not glamorous, but it is important to address.
Before I wrote The End of America, I asked an accountant to comb my tax returns, my employer records, and so on, and to identify anything that could be used against me or distorted. This process of turning an "opposition research" eye on oneself or one's organization before speaking out will have to become more common. If we are under surveillance as a nation, citizens are freer if they have disclosed their secrets to loved ones and gone over their records with a critical eye. Those in the public eye who are afraid to be forceful in opposition because of a secret they want to keep had better talk to their families or their constituencies, or their lawyers and accountants, painful as that may be in the short term. You can't fight this fight in earnest unless there is nothing  left with which to blackmail you.
Some Americans, especially civil servants and members of the military, risk losing their jobs if they take up the patriot's task and speak out, or they may even risk prosecution.
Most of the rest of us? We must be willing to experience personal smears and possibly the exposure of our secrets. Having accepted that, we all need to act and speak with courage and passion: parents, teenagers, union members, corporate leaders; the principled men and women of the military; the men and women of the FBI, CIA, and Secret Service who did not commit their lives to advance values that are un-American; those of the police forces and the National Guard who did not sign up for duty to suppress American rights. We need the powerful conservative Christian movement–who may recall that their own hero was a political prisoner seized by a powerful state, convicted without a trial, and tortured by military who were just doing their jobs–and we need the powerful environmental movement. We need to hold house parties, set up town halls, convene our neighbors, pass out users' guides to the Constitution, overwhelm our representatives and the presidential candidates with demands for them to restore the rule of law.
Finally, we must stand up directly to confront those who have committed crimes against the Constitution–and hold them accountable, as the Founders trusted us to do.
Bullies are cowards: Time and again, when people have awakened to danger and risen together to confront those who have sought to oppress them, citizens in their thousands have crumbled walls and broken open massive prisons. In our own nation, in times of eclipse, patriots have become rebels again and said: "No; the nation is not going down, not on my watch."
When it happens, there is no power that can hold these patriots back.
I hope this emboldens you.
Yours, Naomi
New York City
July 14, 2007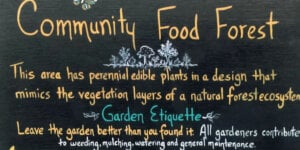 More than 80 percent of the US population now resides in urban areas. This number is projected to rise in the next few decades. Finding ways to maximize use of existing open space is imperative, and increasing access to food through sustainable management of edible landscaping is one important approach among many that are underway.…
Read More