4 Books for Growing Food in Winter
Don't let cold weather stop you from producing and enjoying your own food.
For many, the coming of winter simply means cultivation moves indoors or under cover. Small farmers, homesteaders, home gardeners, and commercial growers can extend the growing season with techniques outlined in these essential books. There's no need for urbanites and small-space dwellers to feel left out–you, too can celebrate a winter harvest by growing salad greens indoors all year round.
 "Our goal was to find the lowest tech and most economical way to extend fresh-vegetable harvest through the winter months." -Eliot Coleman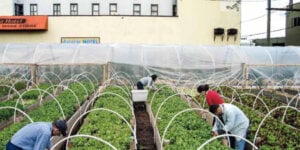 What if farms and food production were integrated into every aspect of urban living—from special assessments to create new farms and food businesses to teaching people how to grow fruits and vegetables so farmers can focus on staple crops. Urban farming is a story of recovery, of land and food, of people, and of the…
Read More