The OAEC Cookbook Offers Hundreds of Garden-to-Plate Recipes
Are you a gardener interested in finding new ways to cook with your vegetables or a farmers' market shopper looking to expand your repertoire? Maybe you are a home cook who wants to prepare healthy meals for your family and friends or a professional chef looking for inspired recipes using wild edibles? Or are you a member of a community-based organization who cooks for crowds on a regular basis?
If you nodded your head to any of these questions, then The Occidental Arts & Ecology Center Cookbook is for you.
Don't miss some sample recipes below including:
Smokey Corn Chowder with Fire-Roasted Pablano Peppers
Rainbow Beet and Carrot Salad with Garden Herbs
Nana's Chiles Rellenos
Millet with Toasted Cumin Seeds
Best Lemon Tart
This unique cookbook is a beautifully illustrated collection of 200 inspired vegetarian recipes using fresh-from-the-garden seasonal ingredients from the OAEC, a renowned farm, educational retreat center, eco-thinktank and home of the Mother Garden—one of California's first certified organic farms.
You'll learn how to incorporate a diverse array of ingredients including weeds, flowers, herbs, nuts, fruits, mushrooms, and other forages, into your family's everyday meals. The recipes also provide the quantities and measurements necessary to cook for a crowd—making each dish perfect to cook at home, or to share at parties, potlucks, and community events.
The OAEC has a passionate ethos about eating seasonally, and their book shows readers how to cook based on what is available in the garden at any given time of the year. Nothing illustrates this concept better than their signature dish, the Biodiversity Salad Mix, which frequently features more than 60 varieties of greens and wild edibles.
Acclaimed chef and author Alice Waters writes in her foreword, "It is a testament to the remarkable biodiversity of the Occidental Arts and Ecology Center that something as ostensibly simple as a green salad can be such a revelation. But a revelation it is." Pretty impressive for a bowl of greens.
Most likely you don't have the resources to incorporate 60 ingredients into a salad, but lead author Olivia Rathbone encourages us to experiment with the biodiversity available in our own regions.
"We are not seeking out rare and endangered food crops of the world in order to 'discover' and profit from the next exotic ingredient to be marketed and consumed by the industrial food system," writes Rathbone in her introduction. "Through trial-and-error research, we are taking full advantage of our regional growing conditions to find what works, and we encourage you to do the same kind of experimentation in your own backyard."
And, for those less adventurous eaters, fear not, a reviewer from Booklist points out that many of the recipes "demonstrate simple techniques that work with many different vegetables."
In The OAEC Cookbook you'll find seasonal menus that offer a wide range of dishes such as: Carrot and Chamomile Soup and Pepita-Encrusted Squash Blossoms Stuffed with Goat Cheese and Mint. There are a variety of delicious salad dressing recipes, sauces, and pestos for garden-fresh greens. There are comfort foods like pots of savory Biodiversity Beans and Winter Sourdough Pizza and crowd pleasing desserts like Fresh Fruit Fools and Cardamom-Rose-Plum Bars.
Is your mouth watering yet? Check out the sample recipes below and start planning your next dinner party. Can we come?
Sample Recipes from The Occidental Arts and Ecology Center Cookbook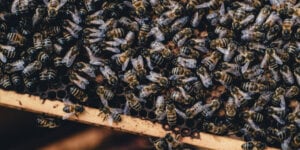 Spring is here and I don't know about you, but I can't wait to get started on all of the projects I mapped out during the cold winter months – including trying my hand at incorporating bees into my homesteading adventure! As a new-bee (get it?!), I need help to get started so I did…
Read More