A Man Apart: Remembering Bill Coperthwaite's Radical Life
A Man Apart is the story—part family memoir and part biography—of Peter Forbes and Helen Whybrow's longtime friendship with Bill Coperthwaite (A Handmade Life), whose unusual, and even radical, life and fierce ideals helped them examine and understand their own.
Framed by Coperthwaite's sudden death and brought alive through the month-long adventure of building with him what would turn out to be his last yurt, Forbes and Whybrow deftly explore the timeless lessons of Coperthwaite's experiment in intentional living and self-reliance. They also reveal an important story about the power and complexities of mentorship: the opening of one's life to someone else to learn together, and carrying on in that person's physical absence.
A review in Booklist puts it best: "In this loving tribute to Coperthwaite, Forbes and Whybrow have crafted an inspiring biography … Interweaving anecdotes of their own interactions with Coperthwaite, including the construction of a final, sunlight-filled yurt, the authors capture the full spectrum of this sometimes curmudgeonly man's gregariousness, resourcefulness, and optimism. Although Coperthwaite's dreams of worldwide cooperative and sustainable communities have not yet been realized, this reverent memoir will help keep his environmental ideals alive."
We asked the authors about Coperthwaite's life and his influence upon them and others. Here's what they had to say.
Both of you had similar, but different experiences, as mentees of Bill Coperthwaite. How did they differ for you, how did they overlap, and how did you incorporate those different lessons into your own shared experience as a family?
Peter: Bill gave us both a powerful example of how to live a life: the role of work and how to protect what is most meaningful. Our decision to turn to farming and a life led closer to the land was given great encouragement by our relationship to Bill. I had little skill working with my hands before meeting Bill and he opened that entire world up to me. It's very true that the experience of learning how to carve a spoon became the encouragement to do a great many other bigger things with my life that relied not just on my mead but on his head and my hands working together. That's been enormously influential and satisfying in my life.
Finally, Bill's model for how he lived on the land in deep relationship to place and nature changed how I thought about conservation and the role of people and community in land conservation. Directly because of Bill, people and their relationship to nature and to one another became a part of what conservation was meant to protect.
Helen: I think the fact that we knew Bill somewhat differently, and yet shared the understanding that he was central to our life together, makes our story richer and more layered. In some ways Peter's relationship with Bill was more intimate, and yet as with all intimacy, that also made it more difficult. Bill and Peter did very important work together over the years with land conversation and creating community and it was not without its tensions. I was on the sidelines of that work, and yet Peter and I would have long conversations about it. My relationship with Bill had its own dimensions and really deepened as he aged and our children grew up.
What are some of his lasting lessons in your lives, and what do you think he's left you to keep figuring out?
Peter: How to live the life you really want as opposed to the life society wants you to lead or the life your parents and family want you to lead. How do you stick with what is truly most important to you. Experience of life is far, far more important than possessions. How do you stay on the edge of experience as opposed to sinking into the comfort of possessions?
Helen: I think what I ponder most since his death is how we learn through life. He showed me that you never have to stop learning or being curious or even traveling in search of new experiences. He went to China when he was 83! He made me think a great deal about how we teach our young, how we treat our old, how the way we approach education is often against the grain of how we naturally learn best. He opened my eyes to how education should be rooted in multi-generational community life, and its goal should be to create empowered, self-aware citizens who want to come up with empathic and just solutions to the world's problems, not just able to compete financially in a global marketplace and achieve individual status. We started home schooling our youngest daughter after Bill died, and almost every single day I want to talk to him about teaching. I'm left figuring out the How.
Bill Coperthwaite is often compared to Helen and Scott Nearing, and even described as a "modern-day" Henry David Thoreau. Is that accurate? Was he something else entirely?
Peter: Bill considered himself to be a public intellectual and social critic like Thoreau and Nearing, which is why those labels have stuck on Bill. But Bill's life hasn't yet achieved that same status because, in my view, he was actually more true to the dogma and less good of a writer than either Nearing or Thoreau. Bill's experiment in living was more rigorous and true to his values and lasted longer than Thoreau or Nearing, but he didn't have as effective ways to talk about it. Bill never got a phone and never went on the lecture circuit like Nearing regularly did. Bill remained in true opposition to society: from it but not of it. In this true sense, he lived the better example but it was a much harder example for people to find.
Helen: Like many things, it is and it isn't accurate. When someone lives a life that is so unusual there are few examples to go by, and few comparisons to make that someone would understand. Bill was strongly influenced by Helen and Scott Nearing. He shared many of their values of how to live, how to be in service, and in particular he and Scott believed passionately in trying to live a life that was not part of a system of exploiting others. With Thoreau he shared an ardent pacifism, and a reverence for nature. He went well beyond Thoreau in his committed experiment in simple living. I think Bill shared an impish sense of humor that comes out in Thoreau's writing at times. Scott Nearing, on the other hand, Bill thought to be "terribly dour."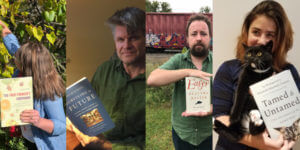 Are you new to the Chelsea Green community and aren't sure which book to read first? Or maybe you're a long-time fan and want to continue your binge-reading but need some fresh ideas. Regardless of how you got here, we can help! From the enlightening and thought-provoking to the quirky and fun, we, the Chelsea…
Read More