5 Common Invasive Species and How to Manage Them
Last week, we asked authors Tao Orion and Katrina Blair to share alternative approaches to managing five different plant species commonly held to be "invasive." St. John's Wort, Garlic Mustard, Thistle, Oxeye Daisy, and Kudzu are often dismissed as annoyances at best and the target of aggressive eradication with harmful chemicals at worst. Orion and Blair, however, hold a different view of these plants. Backed by years of experience with plant and wildlife, they share ways in which each of these species may be used for food and medicine, and how they are part of a greater ecological story.
As Katrina Blair writes, "More and more our mode of thinking about native vs. non-native is flawed and outdated and is clearly no longer serving a holistic model of global earth restoration. It is excessively common for these labeled "non-native" species to be the focus of a negative view and then are subject to herbicides and other eradication techniques. Let's consider the perspective that all plants serve a greater purpose as nature is intending them to do."
Take a look through these five plant profiles and check out Beyond the War on Invasive Species and The Wild Wisdom of Weeds for more information.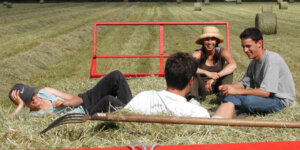 If you haven't been working on a farm since childhood or weren't lucky enough to inherit one from your family, it can be difficult to build one from the ground up.  Farming takes more planning and thinking than meets the eye, but it's not impossible. We've got you covered with how to proceed with your…
Read More