Permaculture Q&A: Ben Falk Talks Nutrient Cycling
Happy Permaculture Month!
Throughout the next few weeks, we are putting our pioneering permaculture authors at your disposal for a month-long Q&A session. If you are looking to become a better permaculturalist, there's still time to participate! Submit your questions here. Below, award-winning author of The Resilient Farm and Homestead, Ben Falk talks about the importance of harvesting and cycling nutrients.
Keira from British Columbia asks:
What has been the most important thing you've learned from indigenous food (fibre, fuel, etc) systems?
Ben Falk: I've learned that even degraded and inherently challenging landscapes can be regenerated and maintained as highly productive, low-input, no-till, perennial agricultural systems offering yields of fruit, nuts, fiber, fuel, meat, milk, perennial grains, and vegetables.

In America, we have few examples of such systems and therefore need to look elsewhere to find truly sustainable cold-climate agricultural systems to replicate and adapt. Permaculture with its emphasis on low-input, self-fertilizing, diverse crop arrangements (otherwise known as "guilds") and no-till approach is particularly suited to producing food and fuel crops on degraded and sensitive landscapes (which is most of America). An important concept to remember is that land design needs to be continually adapted to accommodate America's hill lands, cold-climate, and abused soils. Your land's ability to produce is dependent upon its ability to capture sunlight, rain, snow, wind, atmosphere and other forces and transform those forces into food, medicine, fuel, and other yields. That transformation depends on sunlight being processed through functional water, soil, plant, fungi and animal systems.

The most important thing I've learned working with these systems day in and day out is how crucial it is to conserve, harvest, and cycle all nutrients.

Examples of nutrients are manures, urine, crop residues, woody biomass, food scraps, rock minerals, and sand. Even though nutrients can also be referred to as "wastes," they certainly should not be allowed to go to waste and flow off site. Nutrient conservation is key. By combining nutrients with subsoil, atmosphere, water, sunshine, and some human ingenuity we can develop strategies to rapidly produce fertile topsoil. I review several of these strategies and how we are utilizing them on the Whole Systems Research Farm in my book, The Resilient Farm and Homestead (Chapter 4: Fertility Harvesting and Cycling)
Vance from Ohio asks:
Is it safe to use human urine as a fertilizer and if so, what is the best way to go about using it?
Ben Falk: Speaking of cycling nutrients, harvesting urine is one of the best ways to feed back into the system that feeds you.

Human urine is completely sterile and safe to use as a fertilizer, unless you are very ill. You can urinate right at the base of fruit and nut trees. Or to water vegetables, you can save your urine in buckets then water it down 10 to 30:1 or so. If used properly, urine is a perfect plant fertilizer with many nutrients and nitrogen. However, be aware that urine becomes highly active and odorous once it leaves your body. Your best bet is to use it fresh while the nitrogen content is at its peak.

Check out this excerpt to read more about my experimentations with urine on the Whole Systems Research Farm
The Resilient Farm Homestead: An Innovative Permaculture and Whole Systems Design Approach by Chelsea Green Publishing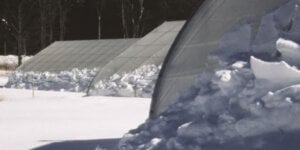 It might seem like a myth that you can grow food in an unheated greenhouse during the winter, but we're here to prove you wrong. As long as there is sunlight there are several techniques you can use to keep your crops warm enough to harvest well into the cold weather. The key? Layers. Just…
Read More