Living the Simple Life: William Coperthwaite
Late last year architect, maker, visionary, homesteader, and Chelsea Green author William Coperthwaite died in a car accident just miles from his Machiasport home in Maine.
The entire Chelsea Green family was saddened by his death, and perhaps none moreso than Peter Forbes who had been inspired by Coperthwaite's work and contributed the foreword and photographs to Coperthwaite's award-winning book A Handmade Life.
Friends have set up a remembrance page honoring Coperthwaite's life and inspiring work, which includes this moving passage from Forbes after he and his wife Helen Whybrow returned from burying Coperthwaite.
"My wife, Helen, and I got back from Dickinson's Reach late last night after a very powerful and important three days. On Saturday, a group of us dug a six-foot-deep grave at the spot where Bill wanted to be buried. Another group made his casket and yet another group planned how to get his body from the mortuary back to his home. Bill wanted his body left however he died, untouched by doctors or undertakers. On Saturday morning, which was cold and stormy, six of us paddled out in two of Bill's canoes across Little Kennebec Bay to Duck Cove where we were met by a hearse. We took his body out of the black plastic bag, wrapped him in his favorite blanket, and placed him gently into his pine box. We lashed the canoes together with four posts and tied the casket to the posts creating a catamaran to bring him home. The return was calm except for when we made the turn into his bay when a great wind picked up and blew us all the way into Mill Pond. We were met there by about 30 others who carried Bill in silence up from the beach past each one of his yurts. We paused at the most recent one as this was the place where Bill expected to die. We then brought him to his grave site, had an hour of reminiscences, and then buried him. And now we're home trying to figure out what life means."
Coperthwaite "embodied a philosophy that he called 'democratic living' which was about enabling every human being to have agency and control over their lives in order to create together a better community," noted Forbes after Coperthwaite's death. "The central question of Mr. Coperthwaite's life and experiment has been 'How can I live according to what I believe?'"
Over the years, thousands of people made the 1.5 mile walk to see his homestead, to be inspired and to learn from his approach to simple living by working alongside him [See the project below, "How to Make Your Own Democratic Chair"]. Intentionally avoiding electricity from the grid, plumbing and motors, he showed that it was possible to live a simple life that is good for themselves and the planet.
Born in Aroostook County Maine, Coperthwaite received a scholarship to attend Bowdoin College and after graduation he turned down another scholarship to Annapolis Naval Academy to claim conscientious objector status in the Korean War. Bill did alternative service with the American Friend Service Committee where he connected with the teachings of American pacifism. Bill would become close friends with Richard Gregg, a central figure in that movement. Though they had 50 years difference in age, Coperthwaite and Gregg found a strong bond and Gregg introduced Coperthwaite to the work of Mahatma Gandhi and to Helen and Scott Nearing, legendary social radicals who had pioneered their own experiment in self-reliant living in Vermont and later in Maine. The influence of pacifism, nonviolence and simple living would lead Coperthwaite far out in to the world to learn from other ways of living, particularly handcraft traditions.
As Forbes noted, "Bill will be remembered by his friends for his commitment to his principles, his deep love of life and people, and his great intellect, humility and humor. Our nation has lost one of the links in the chain of great people working quietly with all their unique powers to foster a better world."
Peace.
---
The following project is from A Handmade Life: In Search of Simplicity by Wm. S. Coperthwaite.
Is there such a thing as democratic furniture? If so, what would a democratic chair look like?
Most of the fine chairs we see today, if handmade, take nearly as much skill as boat building and, if made with power tools, require much investment in equipment and acquiring the skills needed. I would like to see what those who are reading this might come up with for ideas for a handmade chair that is light, comfortable, strong, beautiful, simple to make from easily found materials. (All we seek is perfection.)
Utopian? Or impossible, to create an egalitarian chair? Not at all. As a society we have simply not yet focused on this problem. When we do, there will be some elegant chairs as a result (or boats . . . or houses . . . or wheelbarrows . . . (not necessarily in combination—although, come to think of it, there have been some very comfortable wheelbarrows, some very fine houseboats, and several wheelbarrow boats. . . .)
My suggestion for the most democratic chair follows. This is not provided to represent an ideal but in hopes of stimulating even better designs from you, the readers.
To Make the Democratic Chair:
Saw and whittle out the four pieces shown in diagram, using white pine 7/8-inch thick.

(Click for larger version.)
Bevel the front edges of the two base pieces to meet at the angle shown, then nail together.

Fit seat in place, and screw to the base with four screws.

Place the back piece in the notches in the base, and screw to the base and the seat.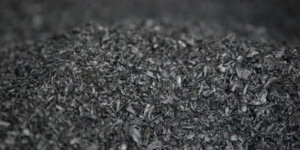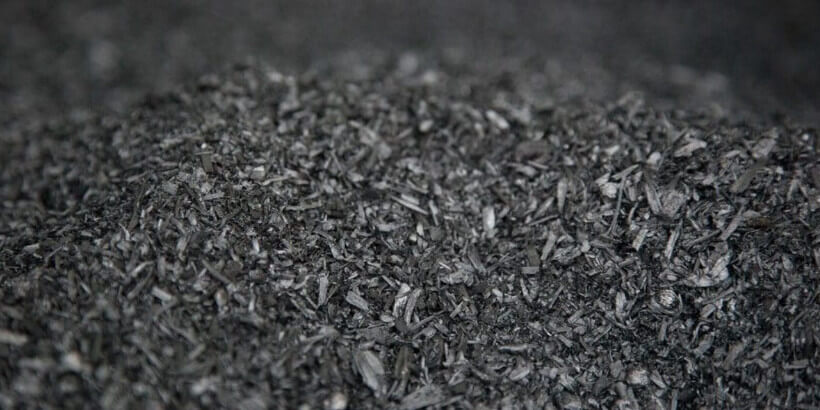 For something that looks like a lump of charcoal, biochar certainly has a great press agent. The subject of books, articles, blog posts, research papers, workshop presentations, conference talks, and various top-ten-ideas-that-will-change-the-world lists, biochar enjoys a reputation that has, so far, exceeded its actual accomplishments. That's too bad. Its potential ability to address a variety…
Read More