Homemade Bone Broth – A Healthy Diet Staple
Have you had your steaming hot bowl of bone broth today? If not, you might want to consider integrating this nutrient rich, immune system boosting elixir into your diet.
As the foundation of the GAPS diet, bone broths are used in the early stages to starve pathogenic bacteria in your digestive system and heal your gut. Sealing a leaky gut can help treat disorders ranging from allergies and asthma to autism, ADD, depression, and more. However, as a healthy source of calcium, potassium, and protein, anyone looking to improve their digestive health can reap the nutritional benefits of bone broth.
If you still need convincing, listen to this interview about bone broth conducted by Dr. Joseph Mercola with authors Hilary Boynton and Mary Brackett from The Heal Your Gut Cookbook. After the interview was posted on mercola.com, the book shot to #7 on Amazon's best seller list for the day.
Learn how to make your own chicken, beef, and fish bone broths using the below recipes from The Heal Your Gut Cookbook. This easy to digest, nourishing broth is made from bones with a small amount of meat on them that you cook on low heat for anywhere from 4-72 hours depending on the type of bones being used. According to Boynton and Brackett, some of the most nutrient-dense animal parts include those you may normally throw away. It might take some getting used to, but once you start adding those chicken feet or fish heads into the pot, your nourished gut will thank you.
For more recipes from books that focus on restorative diets and traditional foods, check out this simple, 4-step method of fermenting vegetables from The Art of Fermentation by Sandor Katz and a recipe for succotash from Full Moon Feast by Jessica Prentice—a cookbook featuring foods that follow the ancient rhythms of the season.
Now, get ready to make bone both a new staple in your diet.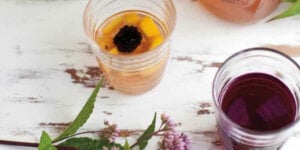 Looking to add another recipe to your fermenting repertoire? Try your hand at kvass. This nourishing beverage calls for just a few simple ingredients and only takes a couple of days to ferment. Use beets or get creative with various fruit combinations like Blueberry Lemon Mint or Ginger Apple Lime. The following recipes are from The Heal…
Read More