Gene Logsdon: Farmer, Philosopher, Curmudgeon

Unlike most octogenarians, author Gene Logsdon is picking up steam as he rolls into his ninth decade. He has developed a prolific body of work as a writer, novelist, and journalist on topics ranging from a philosophical look at woodlands (A Sanctuary of Trees) to the higher calling of manure (Holy Shit). Who else could accomplish such a task, but the beloved Gene Logsdon.
In his latest book, Gene Everlasting: A Contrary Farmer's Thoughts on Living Forever, we find Logsdon at the top of his game as he reflects on nature, death, and eternity, always with an eye toward the lessons that farming taught him about life and its mysteries—including those of parsnips. Yes, parsnips. In Gene Everlasting, Gene has an imaginary interview with a parsnip and seeks its advice on everlasting life.
"Mr. Parsnip" responds:
Develop a distinctive personality like we parsnips do, with a taste only appreciated by the few rather than by the many. You want to appeal to the discerning minority, not the herd-like majority, which is always susceptible to the moneychangers. If you are too desirable as a plant, the gene manipulators will bioengineer you into oblivion.
Publishers Weekly calls Gene Everlasting, "Great bedtime reading, these succinct, thought-provoking, life-affirming essays are a perfect gift for your favorite gardener, nature lover, philosopher, or curmudgeon."
Gene Everlasting is praised by Kirkus Reviews as a "perceptive and understatedly well-written meditation." Booklist adds, "While his legion of fans may pale at the thought that Logsdon has just written his swan song, his recent remission from cancer offers hope that his writing days are far from over."
As any regular reader of his blog can attest, Gene is hardly letting cancer slow him down as a writer. "I think cancer drove me to write more rather than less for the same reason that a fruit tree will increase output if its bark is lacerated with cuts and slashes," writes Logsdon in Gene Everlasting. "Threatened with danger, the writer as well as the apple tree is frightened into greater production."
Here's to a healthy future, Gene. We look forward to more musings and contrarian output. In the meantime, take advantage of this opportunity to download a FREE CHAPTER and read an excerpt from Gene Everlasting. We dare you not to be touched by this author's humor, insight, and endearing, curmudgeonly spirit.
Sign up here and we'll email Chapter 7: Georgie the Cat right to your inbox along with a special 35% discount code good towards any book. But hurry – this offer only lasts until 03/05!
Updated: Our limited time, free download has ended. But don't forget when you sign up for our enewsletter you get 25% off your next purchase in our online bookstore.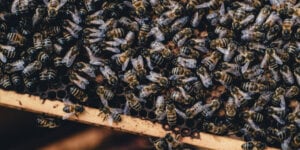 Spring is here and I don't know about you, but I can't wait to get started on all of the projects I mapped out during the cold winter months – including trying my hand at incorporating bees into my homesteading adventure! As a new-bee (get it?!), I need help to get started so I did…
Read More