Chelsea Green Celebrates 30 Years of Craft and Cutting Edge Books
We here at Chelsea Green have always had a nose for authors and books that are years ahead of the cultural curve. That knack is clearly on display in a new anthology that we're making available to celebrate our first thirty years in publishing.
More than one hundred books are represented in this collection and reflect the many distinct areas in which we have published—from literature and memoirs to progressive politics, to highly practical books on green building, organic gardening and farming, food and health, and related subjects—all of which reflect our underlying philosophy: "The politics and practice of sustainable living."
The Chelsea Green Reader offers a glimpse into our wide-ranging list of books and authors and to the important ideas that they express. Interesting and worth reading in their own right, the individual passages when taken as a whole trace the evolution of a highly successful small publisher—something that is almost an oxymoron in these days of corporate buyouts and multinational book groups.
"I like to think of these brief excerpts as individual stones in a cairn. A cairn is a landmark, a pile of rocks built by hikers high above tree line in the mountains. It grows larger and larger over the years as new hikers passing by contribute a new stone, or replace one that might have fallen. A cairn is there to confirm, even on a foggy day, that we are on the right path, and it indicates the way forward, to the summit," writes Senior Editor Ben Watson in the book's preface.

"Every book is a stone, or a brick in the wall, of an edifice that is always being constructed, constantly evolving, and never quite finished. Perhaps it's no coincidence that a publishing company is colloquially referred to as a 'house,'" Watson adds. "At Chelsea Green we continue to build, with our authors and their ideas, a great house, one that represents our deeply held values and beliefs, our hopes and our dreams."
From the beginning, Chelsea Green's books were nationally recognized, garnering positive reviews, accolades, and awards. We've published four New York Times bestsellers, and our books have set the standard for in-depth, how-to books that remain relevant years—often decades—beyond their original publication date. Books in this volume range from ones that appeared in our very first catalog in 1985 (and remain in print today) to ones that have long since gone out of print, but not forgotten as important touchstones for us as a publisher.
"Chelsea Green was born from a single seed: the beauty of craft. Craft in writing and editing, in a story well told, or a thesis superbly expressed," writes cofounder and publisher emeritus Ian Baldwin in the book's Foreword.
This attention to craft has even informed our business model: In 2012, Chelsea Green became an employee-owned company as a way to "practice what we publish" and lay the groundwork to ensure that the founders' legacy remained intact in the decades to follow.
The move made Chelsea Green unique among book publishers in an industry dominated by investor-driven, multinational corporations. Only a handful of independent book publishers can claim employee-ownership status, and of those Chelsea Green will be near the top in terms of the percentage controlled by employees.
With the rise of the Internet, new media platforms, and a constantly shifting bookselling landscape, the future of publishing is anything but predictable. But if Chelsea Green's books prove anything, it is that, despite these challenges, there remains a hunger for new and important ideas and authors, and for the permanence and craftsmanship of the printed word. Today our ongoing mission is stronger than ever, as we launch into our next thirty years of publishing excellence.
"People are moved by what they read," adds Baldwin in his Foreword. "That pertains whether they read an ebook or a printed one, and they want to connect with the writers who make their lives richer. Part of the publisher's role is to help make this vitalizing connection. This nexus among author, publisher, and reader is, I believe, unlikely to wither anytime soon."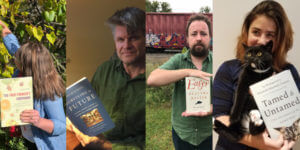 Are you new to the Chelsea Green community and aren't sure which book to read first? Or maybe you're a long-time fan and want to continue your binge-reading but need some fresh ideas. Regardless of how you got here, we can help! From the enlightening and thought-provoking to the quirky and fun, we, the Chelsea…
Read More