How to Use Crowdfunding to Finance Your Sustainable Book Project
When Jacob Deva Racusin and Ace McArleton decided to write the essential book on natural building techniques, they knew who the publisher should be, and they knew the subject like the backs of their hands — but they were missing some key research that would help their book stand apart.
So, the two builders harnessed the power of the crowd, raised almost $3000, and the results of their research (how straw bale buildings perform energy-wise in cold climates) became a key component to the design and building processes detailed in The Natural Building Companion, published in 2012, and furthered the needed research into straw bale building designs in cold climates. They also identified where further testing and research should be directed.
Using Kickstarter to fund their research, "forced us to ingratiate ourselves to our community, which turned out to be great networking, and it was incredible to see how much people wanted to support our work," said Racusin. "It compelled us to work on communicating about what we are doing and why. It required a lot of work, not an easy passive process, but was worth it at the end of the day."
Racusin said the research itself was critical to the final book and "turned out to be one of the most legitimizing components to the book, and has opened many doors for us to present at conferences and engage in conversations with a much broader professional community."
As evident with Racusin and McArleton, if harnessed properly, crowdfunding can be a powerful tool in the aspiring author's kit. Reaching out to potential readers before the book is even underway allows you to begin the grassroots process of promotion—a step that often doesn't occur until after a book is published. Crowdfunding also allows an author to activate that waiting audience, by keeping them apprised of the book as it's being written, and possibly learn from readers about what the book should address. And because the crowdfunded book starts off as a community effort, it touches upon the notion of a gift economy, one based on relationships, place, and concern for the earth instead of mere profit margin.
Funders get gifts in return for their support, depending on how much they donate, but in many cases signing up as a funder isn't any more complicated than pre-ordering a copy of the book.
Want to take part in this bottom-up financing revolution? Right now two of our authors are seeking community-based funding for exciting and necessary book projects. Sign up to help today and take a look at what you'll receive in exchange for your help!Farming the Woods is a forthcoming book on agroforestry — or building edible forest gardens. The authors Ken Mudge and Steve Gabriel are more than half way to their fundraising goal of $8000. Help them out before May 6th and you'll receive:
A signed copy of the book for a $50 donation;

Give $100 and get a signed copy of the book plus free admission to an upcoming mushroom inoculation workshop in New York state (includes a mushroom log to take home);

Give $1000 and get all the gifts offered to smaller contributors, plus a day-long workshop on your property (and the authors will leave you with tons of ideas plus 100 inoculated shiitake logs)!
For more information, and to donate, go here, and check out this video about the project:
Eric Toensmeier, author of Paradise Lot, Perennial Vegetables, and star of the Perennial Vegetables DVD, believes that tree crops are the key to fighting climate change, and he's fundraising to write the book that proves it: Carbon Farming: A Global Toolkit for Stabilizing the Climate with Tree Crops and Regenerative Agricultural Practices.
Give $50 and receive a signed copy of the book plus Toensmeier's collected articles from 2010-13;

Give $150 and get a copy of the book plus a "perennial staple crop sampler" of at least three different perennial staple crops, with recipes or instructions for consumption;

Give $500 and get a 30-minute phone consult about the garden or farm of your choice and a customized list of fifty useful plant species suited to your site.
Find out more about this exciting book and how to donate, here, and watch Eric's video about the project:
If you've got an important project that needs a boost to get off the ground, crowdfunding might be your ticket to success. Give it a try!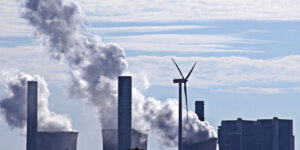 We have long been taught that evolution is a process that occurs gradually over millions of years, that change happens slowly without much attention. We've come to learn that in reality, evolution happens in fits and starts — very slowly for long periods, then in sudden spurts of rapid change. It may be triggered by…
Read More