How to Keep Pests, and Pesticides, Out of Your Garden
We here at Chelsea Green love to garden, as do many of our authors. We're always looking for ways to keep pests, and pesticides, out of our garden and learn new techniques and tips to improve our yield, improve the nutrition of our food, and the health of our soils.
It's a good thing we have a plethora of books to help us along—one for every job. Indoor, urban gardening? Think Fresh Food from Small Spaces.
Year-round gardening? Look no further than Perennial Vegetables, The Four-Season Harvest, and Winter Harvest Handbook.
And don't even get us started on permaculture:
Permaculture

and on, and on….
The right tool for the right job. You get the idea.
For pest management, here's a helpful organic how-to guide from Getting Started in Permaculture.
The following is an excerpt from Getting Started in Permaculture by Ross and Jenny Mars. It has been adapted for the web.
Organic Pest Control
When we first started in permaculture we made many different types of organic sprays to deter pests. While we had great success, we felt that even this is probably unnecessary. If you have lots of strategies for pest control the need for sprays diminishes. We haven't used any sprays for the last four years.
Integrated pest management is a method of pest control where many strategies are used. For example, you could use:
Animal predators such as frogs for caterpillars, predatory wasps for small insects, and ducks for snails and slugs.

Mixed planting in orchards and gardens to encourage predatory species. For example, buckwheat attracts hoverflies. These beneficial insects prey on aphids, leafhoppers and mealy bugs.

Herbs and other plants in companion planting.

Sound management and husbandry to discourage soil and leaf pests.

Plant competition to control land and aquatic weeds.

Insect traps and behavioural chemicals.

Mechanical management and barriers, such as the handpicking of insects and snails, sticky/wet bases (using Vaseline) of fruit trees to discourage climbing insects, and sawdust around garden beds to discourage slugs and snails.

Specific biological pest control, such as fungus or bacteria to kill pests.

Attractants/food to induce predators into garden.

Crop rotation. By moving the area where you grow tomatoes, potatoes and other vegetables around each year you minimise the spread of disease. The cycle of pest and disease organisms is broken.
Crop rotation also has the added benefits of nutrient and fertiliser balance Some vegetables, such as leaf and fruit crops, may prefer high levels of nitrogen, potassium and phosphorous and thus respond to the addition of animal manures.
Root crops do not grow well in animal manures and heavy mulch. Consequently, they become stunted or distorted. By rotating these types of crops there is a greater efficiency of fertiliser use.
One example of a crop rotation system is to plant legumes such as peas and beans in the first year then in subsequent years leaf flower vegetables such as brassicas (cauliflower and broccoli) and silverbeet, then fruit crops such as tomatoes and capsicum and finally root crops which include carrots, beetroot and onions. Some organic growers then leave this area fallow for a year to 'rest' the soil.
Should you have to use sprays to control pests or outbreaks of disease, here are some useful ones to make:
SELF-INSECT SPRAY
Use a teaspoonful of the insect pest and mash it up in a cup of water. Stand this in the sun for a day, filter through an old stocking and mix with 4l of water. Said to be pathogenically potent for the insect pest. This even works for woodlice and millipedes.
GARLIC SPRAY
Finely chop up 4 garlic cloves. Add this to one litre of water and let it stand overnight. Grate some soap flakes (about a level tablespoon) into the mixture. This helps the spray to stick to the leaves. Garlic spray is a good general purpose insecticide.
One variation is to include a couple of hot chillies or onions. Some people blend the garlic cloves in one cup of paraffin oil and let this stand for a day or two before soap is added.
FRUIT FLY CONTROL
To one litre of water add 10ml ammonia solution or urine, 10ml vanilla essence and 100g sugar (or 2 tablespoons honey). Partly fill small jars or the fruit fly traps made from plastic soft drink bottles and suspend 3 or 4 in each tree. The bottles must be kept clean to have any effect.
Many commercial organic producers use a substance called protein hydrolysate which is like marmite or vegemite in smell and appearance. The substance is diluted and then placed in the traps.
Some research has been undertaken on the use of neem oil, which is sprayed onto fruit, for fruit fly control. Neem oil only repels the fly, but initial experimental results indicate it may be just as successful as the protein hydrolysate. Neem oil is only now becoming available for general use, so you may need to ask around for a supply.
WORMWOOD SPRAY
Add 15g of dried leaves to 1l of water. Simmer for 30 minutes and allow to cool slowly. Use only on mature plants for larger pests such as caterpillars, moths and aphids.
PYRETHRUM
This is a natural insecticide which paralyses insects. It can be used in dry powder form or a spray made by mixing 30g of dry flower heads and 50ml of methylated spirits.
Grind the young flower heads to make a fine powder. You can either use this powder directly on your vegetables or make a stock solution by adding methylated spirits.
Keep this stock solution in a dark coloured bottle or jar which has an airtight lid, as sunlight will initiate the breakdown of the pyrethrum. Pyrethrum is toxic but it deactivates in bright light. Dilute this stock twenty times with water when you want to use it. You should apply the powder or solution at night as it will also kill beneficial insects such as bees.
CHAMOMILE TEA
This is effective against damping-off in cold, damp places, and mildew on fruit trees. Use a handful of fresh flowers or 30ml of dried flowers in one litre of boiling water. Cover and steep for 15 minutes, strain and use immediately as a spray. You can also add a small amount of seaweed to the chamomile to make a more potent antifungal spray.
RHUBARB SPRAY
One kilogram of leaves in 2l of water simmered for 30 minutes makes an effective spray against small insects such as aphids and whitefly. Rhubarb leaves contain oxalic acid, which is quite toxic, so use this spray at night time.
From A Permaculture Perspective
Permaculture is a holistic approach to sustainable living. It integrates many disciplines such as agriculture, economics, and wilderness management, all of which are important considerations in pest management.
One of the principles of permaculture is to increase the sum of the yields. This is accomplished by examining the total yield of the permaculture-designed system which is provided by animals, annuals, perennials, trees and crops. The total yield increases dramatically when pests and diseases are controlled.
Pest and diseases only occur when there is an imbalance in the natural cycles involving predators and prey—essentially this means that there are not enough predators to control the pests.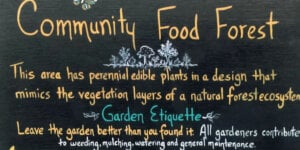 More than 80 percent of the US population now resides in urban areas. This number is projected to rise in the next few decades. Finding ways to maximize use of existing open space is imperative, and increasing access to food through sustainable management of edible landscaping is one important approach among many that are underway.…
Read More