From Horse Power to Pee Power: Best Blog Posts of 2013
It's hard to pick favorites. But, we took some time to reflect on some of the blog posts that you loved the most from this year.
To start on a good note, we had two books featured in The New York Times. The New Horse-Powered Farm  and Paradise Lot both graced the pages of the Home and Garden section.
Continuing on our great media streak, The Art of Fermentation was selected as a James Beard Award Winner!
And remember April Fools Day? Chelsea Green introduced Apocalyptica —a new sustainable erotica imprint. Everyone had a laugh over our re-worked book titles. And, who knows? With the continued strong growth among Romantic titles, perhaps some of these books will be discreetly placed on a bookshelf in a bookstore near you.
We continued the year by telling readers about the The Power of Pee  — a natural way to enrich your soil. We also taught folks how to make the best sauerkraut on Earth  and said over and over again, "we can pickle that!". Because, well, you can pickle that. Whatever it is.
From The New York Times features to April Fools Day fun, we enjoy bringing you fresh content on all things related to sustainable living.
What were your favorite posts of 2013? Share your thoughts with us on Facebook and Twitter.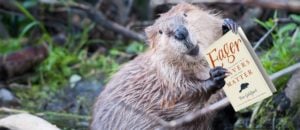 Eager: The Surprising, Secret Life of Beavers and Why They Matter has won the 2019 PEN America E.O. Wilson Prize for Literary Science Writing! A first book by journalist Ben Goldfarb, Eager has received several accolades since its release last year, including being named an Outside Magazine's "Best Book of 2018" and a "Notable Work of Nonfiction"…
Read More