Calling All Young Farmers: This Land is Your Land
If you've seen Food, Inc., read Michael Pollan, or heard of Polyface Farm, chances are you're familiar with Joel Salatin—the charismatic leader of the local food movement and arguably America's most influential farmer.
Salatin's latest book, Fields of Farmers, is a response to the aging farmer phenomenon (the average farmer is now 60 years old) and a call to action: To inspire a new generation of young famers to take over the fields from their aging mentors.
"If you own land and don't know what to do with it, this book is for you. If you want to farm, but don't know how to start, this book is for you. If you are an aging farmer struggling with a succession plan, this book is for you. And if you are a farmer's child trying to make a place for yourself on the family farm, this book is for you," writes Salatin in the Introduction. "We are all utterly and completely dependent on soil, honey bees, raindrops, sunlight, fungi, and bacteria. Neither the greatest scientific discovery nor the highest gain on Wall Street compares to the importance of a functioning carbon cycle or dancing earthworms."
Based on Salatin's decades of experience at Polyface Farm, Fields of Farmers discusses problems and solutions surrounding the land and knowledge transfer crisis of the present day.
The problem is widely discussed in the farming community. For example, take The Greenhorns
—a grassroots non-profit dedicated to promoting and supporting a new generation of young farmers, or the National Young Farmers Coalition — an organization that works to mobilize and engage young farmers. Everywhere you look, there are people and organizations working to combat the problem of the aging farmer.
"As usual, Joel Salatin is once again on the cutting edge of change, writes Allan Nation, Editor and Co-owner of The Stockman Grass Farmer, in the Foreword. "Whether you want to be an intern, or hire an intern, reading this book will be invaluable for you."
Fields of Farmers: Interning, Mentoring, Partnering, Germinating is available now and you can get for 35% off as part of our Holiday Sale with discount code CGS13 until the end of the year. Read the introduction below.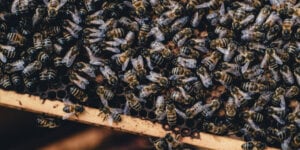 Spring is here and I don't know about you, but I can't wait to get started on all of the projects I mapped out during the cold winter months – including trying my hand at incorporating bees into my homesteading adventure! As a new-bee (get it?!), I need help to get started so I did…
Read More