Rebel Farmer Sepp Holzer's 10-Point Plan to Combat World Hunger
You've heard it before. "Big Farma" says the only way to end world hunger is with more GMOs, more monoculture commodity crops, more pesticides, more chemical fertililzers. But there is another way.
Instead of using high-tech inputs, farmers are producing abundant, varied, and healthy crops by mimicking natural processes.
A pioneer of this practice is "Rebel Farmer" Sepp Holzer, and below he outlines his simple 10 step plan to combat world hunger — using permaculture, not petrochemicals. Holzer doesn't speak a word of English, yet his ideas are so important we've translated his work for the US audience that needs it the most. Sepp Holzer's Permaculture showed readers around his lush alpine farm — where he grows a variety of crops even at a high altitude and a cold climate, and his latest book Desert or Paradise focuses on his methods of engineering water in a landscape to overcome degraded soil.
If you're intrigued by the ideas outlined in the excerpt below from Holzer's latest book Desert or Paradise, this Spring you have a rare chance to learn from the master himself. Sepp Holzer lives in Austria, but will be teaching 5 day workshops in Bozeman, MT, Duluth, MN, Loma Mar, CA, and Detroit, MI to introduce his innovative methods of regenerating landscapes to US students. Holzer has used permaculture principles to restore landscapes throughout the Mediterranean region and elsewhere. This is a rare opportunity to learn his innovative methods.
These workshops will focus on agroforestry, aquaculture, crops, animal husbandry, landscaping, botany, food/nutrition, old and proven farming techniques, and concept development/planning, and more.
Find out more information about these workshops, and how to register, here. Information about the Detroit workshop can be found here.

Sepp Holzer's 10 Step Plan to Combat World Hunger by Chelsea Green Publishing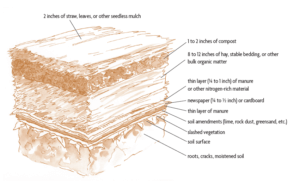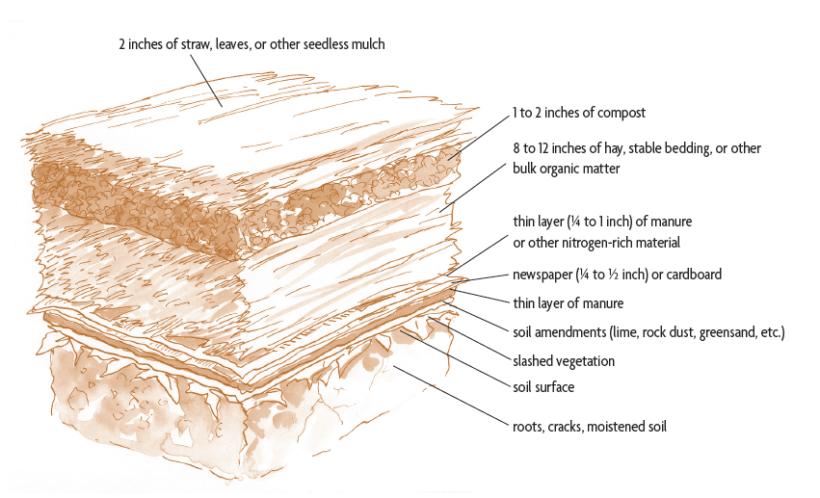 Sheet mulching is a layered mulch system that nurtures the soil. You start with a biodegradable weed barrier like cardboard, and from there build a thick, layered substrate for your garden with compost and mulch. As the materials break down, worms move in, softening the soil below, and creating a healthy, aerated planting bed where…
Read More