Weston A. Price Foundation Conference this Weekend
Leading the vanguard for food freedom, especially for those who believe in the health benefits of raw, fermented foods, is the Weston A. Price Foundation. Named after a dentist who studied traditional foodways and discovered that processed foods and wheat and high-tech fats were not present in the healthiest, non-industrialized diets, the Weston A. Price Foundation has chapters around the country, and gathers them all together for a conference each year.
This year's conference is in Santa Clara, California, and three Chelsea Green authors will be speaking.
Come hear the gospel of fermentation from Sandor Katz on Friday, November 9 from 10AM-Noon. Katz's new book The Art of Fermentation is a New York Times Bestseller, and has been inspiring fermentos everywhere to try new recipes and discover frisky new beneficial microbes to befriend.
Learn about the blessings and challenges that come with the territory of running a small-scale dairy from Gianaclis Caldwell on Sunday, November 11, from 4:00-5:20PM. Caldwell is the owner and cheesemaker at Pholia Farm in Oregon, and her new book, Mastering Artisan Cheesemaking caused early reviewers who got it to respond primarily in exclamation points and smiley faces. Okay, not quite, but if you read the praise the book garnered from expert cheesemakers and 'mongers you'll see what we mean.
And finally, listen to a rallying keynote speech from anti-GMO crusader Jeffrey Smith on Sunday evening at 5:30 PM. Smith has been eloquently waging war against GMO foods for years, with his books and videos decrying the corruption and danger these high-tech, low-nutrition foods contain. This year, Smith has been campaigning in California to support Proposition 37 to label GMO foods in the state. By the time of the Weston Price conference we should know the fate of Prop 37, so it's hard to say whether this keynote will be a victory yell or a call to regroup and start the fight anew.
Chelsea Green is a longtime supporter of food rights and ideas for healthy eating that follow traditional notions — not industrial era fads. We've collected our best food and health books in an easy-to-read catalog which you can download here.
Get all the conference information here, and stop by our booth if you're around! Staffers Michael Weaver and Jennifer McCharen will be there to sell books and answer questions.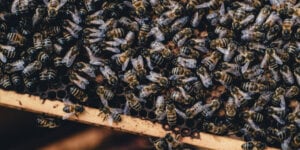 Spring is here and I don't know about you, but I can't wait to get started on all of the projects I mapped out during the cold winter months – including trying my hand at incorporating bees into my homesteading adventure! As a new-bee (get it?!), I need help to get started so I did…
Read More