Start a Polyculture Today, Toss Salad Tonight
Have you ever tried a salad with dill, cabbage, and/or fava beans? This spring, try starting this polyculture blend. It will help you create your own crisp, delicious, unique salads for months to come. It comes from Ianto Evans (co-author of The Hand-Sculpted House: A Practical and Philosophical Guide to Building a Cob Cottage), by way of Toby Hemenway's Gaia's Garden: A Guide to Home-Scale Permaculture.
Ianto Evans's Polyculture
Prepare a garden bed, allowing about twenty square feet of bed for each person who will be fed from the polyculture.
Two weeks before the last frost: Indoors, start about five cabbage plants per twenty square feet of bed. The cabbages should be ready for transplanting a month or so after the seed mixture below is sown. To extend the season, choose both early- and fall-maturing cabbages.
Week One (at the last frost date in your region): In early spring, sow seeds of radish, dill, parsnip, calendula, and lettuce. For a lengthy harvest season, select several varieties of lettuce. A mix of looseleaf, romaine, butter, iceberg, and heat-tolerant varieties such as Summertime or Optima will stretch the lettuce season into summer.
Broadcast all the seeds over the same area to create a mixed planting. Sow at a density of about one seed every couple of square inches and cover the entire bed with a light scattering of seed. Sow each seed type separately—don't mix the seeds and toss them all onto the bed, because the heavy seeds will be flung the farthest, and you'll wind up with all the radishes on one end and all the parsnips at the other. Then cover the seed with about a quarter-inch of compost and water gently.
Week Four: Some of the radishes should be ready to pluck. In a few of the gaps left by the radishes, plant cabbage seedlings about eighteen inches apart.
Week Six: The young lettuce will be big enough to harvest. The dense sowing of lettuce will yield a flavorful mesclun blend when the plants are young. Pick the whole plant to make space for the rest to grow. With continued thinning, the remaining lettuce will grow up full sized. If you've chosen varieties carefully, you'll be crunching lettuce for up to four months.
Late Spring/Early Summer: When the soil has warmed to above 60 degrees Fahrenheit, plant bush beans in the spaces left by the lettuce. If more openings develop in early summer, sow buckwheat and begin thinning their edible greens shortly after they appear. The next crops to harvest after the lettuce will be the dill and calendula (calendula blossoms are edible and make a tasty addition to salads). The early cabbages will be coming on at about this time, too, followed in midsummer by the beans. Parsnips are slow growing and will be ready to eat in fall and winter. As gaps in the polyculture appear in early autumn, mild-winter gardeners can plant fava beans; others can poke garlic cloves into the openings, to be harvested the following spring.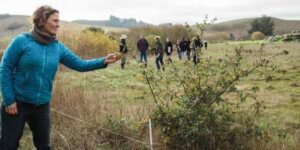 To get a sense of how carbon farming could positively affect global warming, imagine ten ranches, approximately three-hundred acres each, implementing carbon farming and achieving a conservative per acreage carbon sequestration rate.  At this scale, the net gains of CO2 removed from the atmosphere (over 20 years) is equal to the emissions that 25,532 passenger…
Read More