'Prince of Pickles' to Preside Over Powell's Pickle Day Party
Paula Crossfield, editor of Civil Eats, crowned Sandor Katz "Prince of Pickles" when she interviewed him earlier this year. He's also been dubbed the "fermentation guru," but that's far less alliterative than what Katz often calls himself in interviews: A "fermentation fetishist."
Katz's passion for all things fermented makes his latest book, The Art of Fermentation, as zesty and exciting as a freshly opened crock of kim chi, not to mention a New York Times bestseller.
Do you have questions about sauerkraut, which Katz has dubbed his "gateway drug," or are you curious to learn from Katz about new ferments you've never tried — like kefir, kvass and kombucha. Katz's new book is the most comprehensive guide available, and will introduce you to fermented foods from cultures around the world. If your garden produced a patch of plump peas this summer, you can pickle that! Or you can pickle a peck of perfect peppers, Sandor Katz will show you how.
If you're in the Portland area (the incredibly pickle-friendly Portland area), you will have the perfect opportunity to praise the Prince of Pickles in person. To celebrate National Pickle Day on November 14th, Powell's City of Books is hosting Katz for a talk about The Art of Fermentation, and a book signing.
Though, unlike the Portlandia episode Katz will keep his pickling panache strictly to truly edible items — no unused jewel cases, broken heels, or band aids. However, if we do say so ourselves – Katz's chops are far superior to that of Fred Armisen's. Maybe worthy enough for a cameo on Portlandia?
Journalist Liz Crain is hosting Katz during his stay in Portland, and she's also giving away a copy of the book (which you can get signed by Katz himself). Enter to win by leaving a comment on her post about your favorite ferment.
Just in time for the holidays, we have combined Katz's two classic books on fermentation (The Art of Fermentation and Wild Fermentation) with a DVD of one of his popular workshops. Get all three in one reduced-price set here.
.
.
.
.
.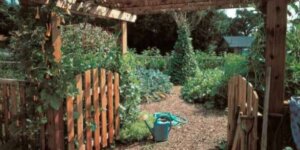 Trying something for the first time can be intimidating, especially when it's something as big as learning how to live off your land. But like with any new adventure you shouldn't bite off too much at once. Instead, it's better to take the time to properly plan and educate yourself on what it will take…
Read More