Our Recent Releases are Receiving Rave Reviews
From Nordic foods to nuclear power, some of our recent releases have gotten some great reviews in the publishing world. Congratulations, authors!
Below is a quick round-up of our favorite praise from the latest round of reviews.
Gar Smith's new book Nuclear Roulette dismantles the specious arguments we hear all-too-often about the safety, cleanliness, and sustainability of nuclear energy. Kirkus, in particular, called Nuclear Roulette, "A penetrating argument against today's nuclear age."
Booklist and ForeWord also weighed in with positive reviews, which you can read here.
From the kitchen of Danish organic grain farmer Hanne Risgaard comes the lushly illustrated cookbook Home Baked. With simple recipes that still manage to use fresh ingredients in surprising ways, and information on using grains like spelt and rye in addition to wheat, Home Baked is a great addition to any baker's bookshelf. The editors of ForeWord Reviews agree: "This is an easy to follow, surprising, and inspiring baking book. Risgaard's joy in sharing her craft is contagious and home cooks will find themselves headed to the kitchen for the both warmth this book promises and that the recipes deliver."
Read the entire review here.
Taste, Memory by David Buchanan introduces readers to a world of forgotten flavors. Booklist's review calls the book: "Not just a feast for the palate, Buchanan's book is a feast for the souls of those concerned about a fast-food culture that prizes uniformity and convenience over the kind of tastes that cannot be produced on an assembly line."
Read the rest of this review, plus other reviews for Taste, Memory (which Amazon named one of the Top Ten Food Lit Books of 2012) here.
Last month marked the one-year anniversary of the death of scientist Lynn Margulis. Her son, Dorion Sagan, collated Lynn Margulis: The Life and Legacy of a Scientific Rebel, a book of essays from her colleagues and friends to commemorate her unique legacy. ForeWord Reviews writes: "In this thoughtful and expertly curated collection, Margulis's son and long-time collaborator, Dorion Sagan, calls her 'indomitable Lynn.' A fearless and zealous advocate of her theories who could also display a loving heart, he writes, '[H]er threat was not to people but to the evil done to the spirit by the entrenchment of unsupported views.' In other essays, Margulis's complex personality beguiles, frustrates, charms, and elevates various writers, resulting in a stunning portrait that no single remembrance could have captured."
And last but far from least, Slow Democracy, a new book from community organizer Susan Clark and scholar Woden Teachout looks at ways communities are coming together to decide their own destiny. Library Journal writes, "A convincing argument that time invested in this way benefits everyone in the community and reconnects citizens with their governments and each other. Recommended for anyone interested in being more politically engaged." And Kirkus Reviews calls Slow Democracy,  "A valuable tool for improving the way government operates at the local level."
Read the entire reviews here.
These reviews are from magazines and websites dear to the world of book-industry insiders, but they're not the only reviews that matter to us. If you love a Chelsea Green book, and happen to shop online, don't keep it to yourself! Taking a moment to post a review of an important book will help other readers find it, and discover the same empowerment and inspiration that you did.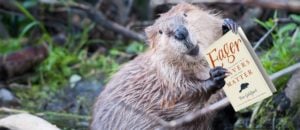 Eager: The Surprising, Secret Life of Beavers and Why They Matter has won the 2019 PEN America E.O. Wilson Prize for Literary Science Writing! A first book by journalist Ben Goldfarb, Eager has received several accolades since its release last year, including being named an Outside Magazine's "Best Book of 2018" and a "Notable Work of Nonfiction"…
Read More