Meet Chelsea Green Authors at the National Heirloom Expo and Heritage Harvest Festival!
Join Chelsea Green authors at two upcoming events — one on the west coast and one on the east.
First up is the National Heirloom Expo in Santa Rosa, California from September 11-13. Learn about artisan cheesemaking from Gianaclis Caldwell, let Peg Schafer inspire you to start growing your own medicine, and get the basics on sauerkraut from the fermentation master Sandor Katz.
The National Heirloom Exposition is a not-for-profit event centered around the pure food movement, heirloom vegetables, and anti-GMO activism. Last year's expo drew more than 10,000 people from around the country and beyond. The Heirloom Expo has gained incredible interest among home growers, farmers, school groups and the general public–so much so that it is being called the "World's Fair of the pure food movement"!
Get the details and register here.
Right on the heels of the Heirloom Expo (September 14-15), all the way across the country, is the Heritage Harvest Festival at Monticello — Thomas Jefferson's historic home in Virginia. Here you can meet Janisse Ray, our resident champion of seed saving; Harvey Ussery, holistic poultry steward; high priest of the pasture, Joel Salatin; and orchard expert, Michael Phillips.
Thomas Jefferson championed vegetable cuisine, plant experimentation, and sustainable agriculture. The 6th annual Heritage Harvest Festival, hosted by the Thomas Jefferson Foundation in partnership with Southern Exposure Seed Exchange, celebrates Jefferson's legacy in a fun, affordable, family-oriented, educational event promoting gardening, sustainability, local food and the preservation of heritage plants.
The 2012 Heritage Harvest Festival will be held on Saturday, September 15, from 9 a.m. to 4 p.m., at Monticello: on the West Lawn, in the vegetable garden, and in the new LEEDS-certified Visitor Center. The venue provides a beautiful showcase for the restored gardens, and features the wealth of Monticello's programs in not just gardening, but also natural history, foodways, and the roles of the entire plantation community. There will be additional premium programming on Friday, September 14. The Grand Preview Dinner and Evening with Joel Salatin will be held on Friday evening.
The Heritage Harvest Festival is a grassroots, volunteer-oriented event with serious educational goals. Please join us for a meaningful and fun day celebrating sustainable living and the good things that come from the earth.Learn more and register here.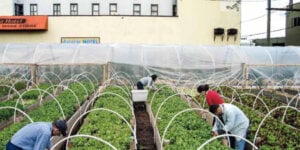 What if farms and food production were integrated into every aspect of urban living—from special assessments to create new farms and food businesses to teaching people how to grow fruits and vegetables so farmers can focus on staple crops. Urban farming is a story of recovery, of land and food, of people, and of the…
Read More