Love a Book? Tell the World! — Or, The Importance of Online Reviews
You hear it all the time in this free-market worshiping country: vote with your dollars.
It's a paltry excuse for representation, politically speaking, I mean, I'm assuming you're just a regular person like me, with a rather small amount of "votes" to spend. It's not exactly in fitting with that old chestnut "one person, one vote", is it? But in the realm of consumer products it works a little better, and in the blissfully anarchic world of social media and online shopping it really works. A purchase on Amazon, for instance, is tabulated and tallied, boosting the comparative rank of the product you selected.
And there are other ways to "vote" online. Clicking a "like" button on Facebook instantly proclaims to the online universe that you've expressed goodwill toward a product, organization, or celebrity. Clicking "follow" within Twitter or Tumblr similarly bestows your benevolent, electronic smile upon whatever or whoever is lucky enough to have been chosen.
These simple gestures make it easy to spread the love online, but they're not the only tool in your kit. If you really like what someone is selling or doing, you can also post about it on your own blog or profile, or post a review on a major shopping site.
A positive and in-depth review on Amazon does wonders to help others connect with a book you enjoyed. Like this recent one for Michael Phillips latest, The Holistic Orchard: "Southern California is three thousand miles and six climate zones from Northern New Hampshire, but I found Michael's book more relevant to growing apples in my area than all the garden books I've seen written for Southern California…."
And this one from Didi Emmons' Wild Flavors: "This is an incredible must-have book for anyone out there who likes to know where their food comes from and enjoys exploring new flavors in their kitchen. Recipes aside for a moment, the book itself is beautiful….Emmons also highlights plenty of common edible weeds that can be foraged across the United States at different times of the year (oxalis, goosefoot, knotweed, and autumn olives to name a few), which will not only diversify your menu but will also make walking your dog or driving on the highway a lot more fun (you can play the "hey! that's edible!" game). This is my new favorite book and I would recommend it to anyone interested in food, farming, or the environment!
Or a blog post on a site like the Huffington Post, like this recent review of Reinventing Fire: "[Lovins' ingenious, fact-rich, and optimistic] book offers not ideas of how to deal with these barriers, but a vision of what we could have, a system that would benefit many stakeholders, including nimble corporations."
Or even on your own blog, with a small but dedicated audience, like Walden Effect's multi-part review of The Small-Scale Poultry Flock: "Harvey Ussery's The Small-Scale Poultry Flock is the number one homesteading related book to read this year.  I know, I know — Joel Salatin put out his first non-self-published book, The Dirty Life promises to reach beyond the usual homesteading readership, and Sepp Holzer has finally published a book about his methods in English, all in 2011.  But for the backyard homesteader itching to turn her farm into a permaculture masterpiece, Harvey Ussery's book has those bestsellers beat hands-down."
Have you been inspired by one of our titles? Keep in mind that your positive response can do more than make you smile, and chatter about the book to friends and family (although, by all means, please do that too!). If you take a few minutes to post a review on Facebook, a blog or Amazon, it will give other readers valuable insight into what made that book work for you. And selling more books makes authors (well, and publishers, of course) really happy!
So we hope you'll continue reading and enjoying our books. If you do, don't keep it to yourself!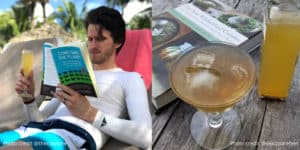 Wondering what to read this summer? Don't worry, we have you covered! Grab your towel and claim the best pool chair or relax at your homestead with one of these perfect summer reads. Whether its nature reads, to healing your gut, everything wild, or inspirational books you'll have your nose in a book all summer long…
Read More