Dr. Seuss, Petrochemicals, and the War on Bugs

While movie-goers recently lined up to see the Disney-fication of The Lorax (replete with marketing tie-ins to dish soap and automobiles … hmm), we here at Chelsea Green were reminded of an unflattering side to that beloved children's author Dr. Seuss — one you don't read about very often.
Before I give you the dirt on Dr. Seuss' dark side, I'll be the first to say that Dr. Seuss has brought us some of the great allegorical books of the modern age — The Lorax, The Sneetches, The Butter Battle Book, Dr. Brown Can Moo, Can You? (OK, maybe not so much the last one) — and each of his tomes is dog-eared and readily recited in my household.
However, before Dr. Seuss emerged as one of the great children's book authors he toiled away as a cartoonist under his given name — Ted Geisel. Geisel inked cartoons for some of the nation's major chemical companies who were looking for ways to dump their wartime nasty concoctions on an unsuspecting US public.
Voila! Pesticides and other agro-chemicals were born.
Author and farmer Will Allen (of Cedar Circle Farm here in Vermont) wrote about the rise of chemical farming in his 2007 book, The War on Bugs.
As a result, we here at Chelsea Green are offering —for a limited time — a salient chapter from Will's book as a free download. In this chapter, Allen delves into Geisel's early cartooning work replete with pro-pesticide, pro-patriotic toons for the agrichemical industry. In particular, Geisel helped to make Flit — and the Flit gun — a household word in this "war on bugs."
As Allen notes in his book, many believe the positive, pro-environmental themes of The Lorax stemmed from Geisel's own attempt to scrub clean his early cartooning legacy that helped to introduce chemicals into the food supply and everyday life.
Allen notes, "Perhaps Dr. Seuss realized his earlier mistakes and indiscretions with Standard Oil's Flit and tried to make amends with The Lorax. Geisel must have known that Flit's cartoons and his World War II cartoons for DDT had an enormous impact on the public's use of pesticides and acceptance of DDT."
He must have known, right?
Unless.
PS: Will Allen is also pretty active right now in Vermont's effort to pass legislation requiring food that contains GMOs to be labeled as such. Check out his AlterNet article detailing Monsanto's threat to sue if the law is passed, and find out how you can help by chiming in on our Facebook page.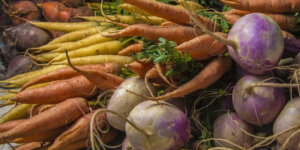 If you love to cook with fresh produce but happen to live in a climate where it's nearly impossible to access during the winter months, we feel ya! Here in the northeast, chilling winds and heaps of snow make it hard to leave the house, let alone grow fresh produce, but that doesn't mean we…
Read More