Diane Wilson Released from Jail!
This just in from Tar Sands Blockade, Diane Wilson, author of Diary of an Eco-Outlaw and An Unreasonable Woman has been released from jail!:
After being held for nearly a week under the torturous and inhumane conditions of the Harris County Jail, Diane Wilson has been bailed out!
Diane is a 4th generation shrimper and a lifelong Texan. She is the Executive Director for the San Antonio Bay Waterkeeper's, and a founding member of the following organizations: Code Pink-Women for Peace, the Texas Jail Project, Texas Injured Workers, and Injured Workers National Network. While in jail Diane was denied water for over 78 hours and will soon be giving a first person account of her experience.
On Thursday, November 29th, Diane locked her neck to an industrial tanker that was hooked up to a pumping station outside the Valero refinery in the Manchester neighborhood of Houston. She is also on the 7th day of a sustained hunger strike, demanding that Valero divest from the Keystone XL Pipeline and vacate the community that they have been poisoning for decades.
Diane is pictured here with a member of Tar Sands Blockade; they are wearing masks as a display of solidarity with all those who do not have the privilege of having their identity exposed. In the neighborhood of Manchester many people have differing levels of "legal" status. Let us make their struggle our struggle as well. ¡Compañ[email protected] en la rebeldía!
To learn more about the inhumane conditions of the Harris County Jail please visit: www.texasjailproject.org
For photos and information about last Thursdays action: http://tarsandsblockade.org/13th-action/
NO REFINERIES! NO PIPELINES! NO COMPROMISE!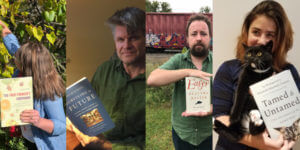 Are you new to the Chelsea Green community and aren't sure which book to read first? Or maybe you're a long-time fan and want to continue your binge-reading but need some fresh ideas. Regardless of how you got here, we can help! From the enlightening and thought-provoking to the quirky and fun, we, the Chelsea…
Read More