The following is an excerpt from Whole Foods Companion: A Guide for Adventurous Cooks, Curious Shoppers, and Lovers of Natural Foods by Dianne Onstad. It has been adapted for the Web.
Chinese Cabbage (Brassica chinensis, B. rapa)
The Latin name Brassica derives from the Celtic bresic; chinensis designates the plant's Chinese origins.
General Information
Long appreciated for its delicate flavor and crisp texture, Chinese cabbage has been cultivated since before the Christian era. It has been described as a cabbage that even cabbage haters love—it is crisper, juicier, sweeter, and more tender than common cabbage. There are several varieties of Chinese cabbage, the two most popular being bok choy and Pe-tsai. All form a head, but the head varies from round like cabbage to elongated like romaine lettuce; also, the crinkly leaves may curl inward or outward.
Buying Tips
In most markets, at least one form or another of Chinese cabbage is available year-round. Select fresh, light-colored greens with plump ribs. Squeeze the heads to find a firm, heavy one. Avoid those that have wilted leaves with any rot spots. Small dark specks, however, are naturally occurring. Chinese cabbage stores exceptionally well (but not so long as cabbage), and the flavor even improves when it is slightly wilted.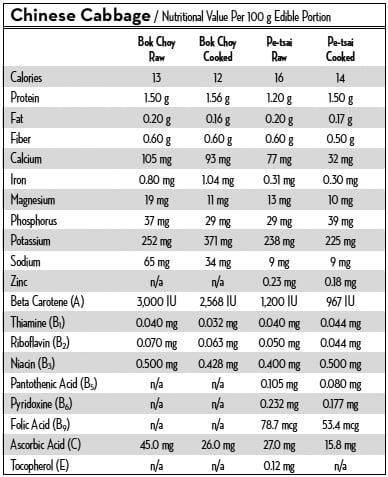 Culinary Uses
Chinese cabbage's sweet flavor is enhanced with long simmering, and the leaves become silky soft but hold their form. Try it in soups and stews, baked, or braised. It's also delicious when lightly cooked (stir-fried, steamed, or blanched) or even raw in a salad, where its thin, crispycrunchy leaves add great texture and make an excellent salad base on their own. The blanched leaf makes a flexible and excellent wrapper that is, compared to common cabbage, easier to work with yet more delicate. Pickled Chinese cabbage, kim chee, the signature dish of Korea, is as easy to make as sauerkraut, the pickled cabbage of equal prominence in German cuisine.
Health Benefits
Chinese cabbage is cooling and beneficial to the lungs, stomach, and liver channels. It also moistens the intestines and treats constipation. It is an anti-inflammatory and useful in cases of yellow mucus discharge and other heat symptoms, including fever. According to Oriental medicine, stalk vegetables raise energy and are expansive and cooling foods. All Brassica genus vegetables contain dithiolthiones, a group of compounds that have anticancer, antioxidant properties; indoles, substances that protect against breast and colon cancer; and sulfur, which has antibiotic and antiviral characteristics.
You can forget about waiting for your wine to ferment because we have a recipe for dandelion beer that will be ready in just a week! Who knew those weeds in your back yard could make such a fun beverage? Not to mention they're packed with health benefits: "It's mostly used as a tonic (the…
Read More