What's Facebook's Problem with Marijuana is Safer?
We are so proud of Steve Fox, Mason Tvert and Paul Armentano, co-authors of Marijuana Is Safer: So Why are we Driving People to Drink?. Over the past few years their tireless activism in support of reasonable legislation on the use of marijuana has garnered their respective organizations tons of attention and new followers. In addition, their book has been sold and downloaded hundreds of thousands of times–and the book's own Facebook page has recently passed the 500,000 fans mark!
Clearly, people care about the issue. And we, as a mission-focused publisher, want to do everything we can to support the efforts of these activist-authors. So we decided to offer the book at a special price to celebrate the overwhelming success represented by the 500K Facebook fans of the book. And we thought, why not try out some nifty Facebook ads to help spread the word beyond the already dedicated audience. We thought Facebook would like our ad dollars same as the next guy's, and they even suggested it themselves (see screenshot)!
But when we submitted our ads they were denied. In their own words, "I took a look at your account and noticed that the content advertised by this ad is prohibited. We reserve the right to determine what advertising we accept, and we may choose to not accept ads containing or relating to certain products or services. We do not allow ads for marijuana and any products related to it, and will not allow the creation of any further Facebook Ads for this product. We appreciate your cooperation with this policy."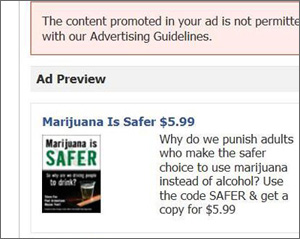 This is one of the ads we submitted.
Really guys? Facebook has allowed ads for marijuana advocacy and education in the past, so why won't they allow an ad promoting an advocacy and educational tool? It's not as if we're selling a bong, or the book is made of rolling papers! Although some Facebook fans have suggested that might boost sales…
This brief text is an essential guide to the issue of marijuana legalization, and the public health reasons it's a good idea.
Even though we can't advertise the special on Facebook, the sale will go on until June 14. Just use the code 'SAFER' when prompted at checkout, and get a copy for just $5.99!
https://www.chelseagreen.com/bookstore/item/marijuana_is_safer:paperback
Here are some other articles about this promotion:
http://blogs.alternet.org/speakeasy/2011/06/07/marijuana-is-safer-so-why-are-we-driving-people-to-drink/
UPDATED:
After submitting new ads to facebook about their censorship facebook denied those ads as well.  (See the graphic to the right).
 Also Check out a great article about Facebook banning our ads — Marijuana: Mason Tvert can't pimp paperback deal on Facebook because book is about pot
As the 'poison cartel' creeps relentlessly across food systems, there is overwhelming evidence that something must be done to stop them. The small town of Mals, Italy took a stand and started a revolution to stop the corruption and pave the way for a pesticide-free future.  The following excerpt is the foreword by Dr. Vandana…
Read More