Watch: Kurt Michael Friese on Chasing Chiles
Kurt Michael Friese, who coauthored Chasing Chiles: Hot Spots Along the Pepper Trail with Kraig Kraft and Gary Paul Nabhan, spoke in Montpelier, Vermont last month and had a chance to sit down for the following interview with Chelsea Green TV.
Friese describes how the book came together and discusses some of the themes and issues that he and his coauthors investigated over the course of writing it. Setting out in a van they dub their "Spice Ship," Friese, Kraft and Nabhan invite readers along on their journey through eight pepper-growing states and to Mexico in search of rare chiles, along with the local dishes and cultural traditions they inspire. The voyage takes them to the dusty streets and roadside stands of Sonora, Mexico, where they find the incendiary chiltepin stuffed in old bottles, and to northern Florida where salty growers eke out a living from the endangered datil pepper.
Hear the full story from Kurt himself in the video below.
Chasing Chiles is available now.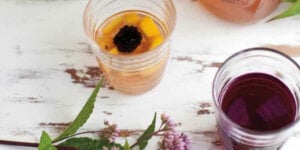 Looking to add another recipe to your fermenting repertoire? Try your hand at kvass. This nourishing beverage calls for just a few simple ingredients and only takes a couple of days to ferment. Use beets or get creative with various fruit combinations like Blueberry Lemon Mint or Ginger Apple Lime. The following recipes are from The Heal…
Read More